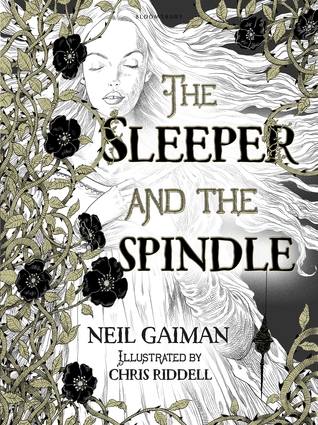 Source: Public Library
Hardcover, 72 pgs.
I am an Amazon Affiliate
The Sleeper and the Spindle by Neil Gaiman, illustrated by Chris Riddell, intertwines the fairy tales of Sleeping Beauty and Snow White, and in this beautifully illustrated book, these fairy tales come to life.  In beauty and with courage, these young royals must beat back the darkness with cunning strategy.
Gaiman's prose mimics the fairy tale language of these tales and he drops hints as to the identities of the queen and the princess.  Younger readers and their parents will enjoy these stronger role models, who do not wait around to be rescued but rescue themselves.  Rather than simply marry as expected, can a queen choose another path for herself, something unknown but more satisfying?  Should a princess wait for another queen to rescue her, or use her own mind to puzzle out a solution that can save her life and defeat the darkness?
While there are not seven dwarfs, but three, and they tend the queen with beautiful textiles, rather than jewels, these dwarfs are inquisitive and adventurous.  The detailed descriptions of the townspeople and their sleeping postures, alongside the illustrations, provider readers with a well-rounded picture.  The Sleeper and the Spindle by Neil Gaiman, illustrated by Chris Riddell, is gorgeous both in visual beauty and in substance, mirroring the strong royals in Gaiman's tale.
Other Reviews: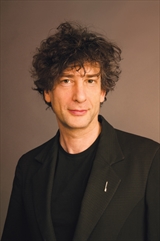 About the Author:
Neil Gaiman is the #1 New York Times bestselling author of more than twenty books, and is the recipient of numerous literary honors. Originally from England, he now lives in America.
Find out more about Neil at his website, find all his books at his online bookstore, and follow him on Facebook, tumblr, and his blog.