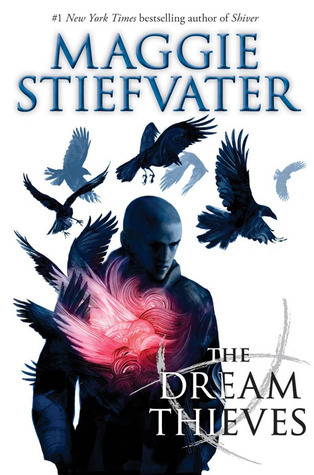 Source: Public Library
Audiobook, 11 CDs
I am an Amazon Affiliate
The Dream Thieves by Maggie Stiefvater, narrated by Will Patton, continues the series with the Raven Boys and Blue fighting the dark forces of dreamland.  The ley line has been awakened but the Raven Boys and Gansey continue their search for the dead ancient king Glendower.  As they continue their search, the Gray Man is searching for a mechanism, but even with the help of Blue's psychic family, he has no idea what he is searching for. The romantic tension is present here, but the book is less about teen romance than about the battle between good and evil and the known versus the unknown.

Meanwhile, the magic of Cabes Water has disappeared or fizzled out, as if a power surge has disrupted its power.  Ronan, who has been the black sheep, has finally found a purpose, and in this volume, he has come into his own, while Adam still seems lost.  Despite the fluid relationships between the Raven Boys and Blue and her family, they have little choice but to push aside their emotions to save the magic of Cabes Water, jumpstart the power of the fading lay line, and keep the evil forces at bay.  Stiefvater's prose is thrilling, visually arresting, and unforgettable.

The Dream Thieves by Maggie Stiefvater, narrated by Will Patton, is a whirlwind of magic that will leave readers wanting more.  Will these boys survive the magic? Can they wield the magic with aplomb and responsibility? Or will they be devoured by the fire that threatens to burn the town and take the magic with it?  This is a series that will have readers begging for more, and they'll be unable to get these living nightmares out of their head long after the book is closed.
Other Reviews:
About the Author:
New York Times bestselling author of The Shiver Trilogy, The Raven Cycle, and The Scorpio Races. Artist. Driver of things with wheels. Avid reader. All of Maggie Stiefvater's life decisions have been based around her inability to be gainfully employed. Talking to yourself, staring into space, and coming to work in your pajamas are frowned upon when you're a waitress, calligraphy instructor, or technical editor (all of which she's tried), but are highly prized traits in novelists and artists. She's made her living as one or the other since she was 22. She now lives an eccentric life in the middle of nowhere, Virginia.