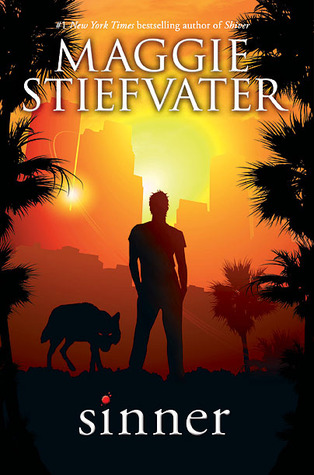 Source: Public Library
Hardcover, 357 pgs.
I am an Amazon Affiliate
Sinner by Maggie Stiefvater is the culmination of everything readers will love about the Shiver series; these characters, flawed as they are, have come a long geographic distance to outrun their problems but instead are faced with the reality that they cannot be run from.  Cole St. Clair, a former famous rocker, has come to Los Angeles to get away from the empty quiet of Minnesota, and as the new star on a reality TV series, he hopes that he'll find a way to win Isabel Culpeper's heart and keep her forever by his side.  However, he has forgotten one thing, Isabel is not interested in being an accessory for anyone's life; she's a star of her own show, even if it is inside a cold winter not-so-wonderland.
Baby, the producer of the reality TV series, is well aware that Cole is a reformed addict — though she doesn't know about his baser nature — and she's ready to make some great TV, even if she has to throw naked women at the fallen rock star. Isabel, however, is made of tougher stuff, or so she thinks. She's an ice queen, but like ice under pressure, she's bound to crack.
Stiefvater's characters may have supernatural problems, but those only really magnify what's broken inside them emotionally. Feeling abandoned, out of place, unloved — all are deep problems that cannot be ignored, lest they destroy the victim.  Sinner by Maggie Stiefvater is a wonderful addition to the Shiver trilogy, and it will have readers cheering for that reality TV happy ending. But will they get it?
Other Reviews:
About the Author:
New York Times bestselling author of The Shiver Trilogy, The Raven Cycle, and The Scorpio Races. Artist. Driver of things with wheels. Avid reader. All of Maggie Stiefvater's life decisions have been based around her inability to be gainfully employed. Talking to yourself, staring into space, and coming to work in your pajamas are frowned upon when you're a waitress, calligraphy instructor, or technical editor (all of which she's tried), but are highly prized traits in novelists and artists. She's made her living as one or the other since she was 22. She now lives an eccentric life in the middle of nowhere, Virginia.