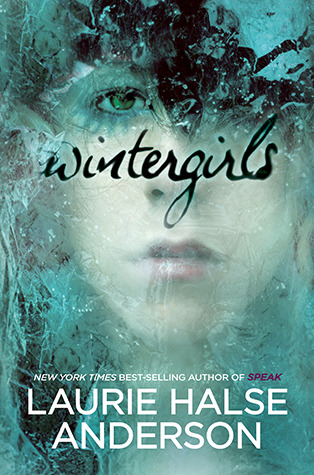 Source: Public library
Audiobook, 6 CDs
I am an Amazon Affiliate
Wintergirls by Laurie Halse Anderson, narrated by Jeannie Stith, is an extremely disturbing look at the mindset of a teenager caught in the grips of anorexia.  Cassie calls Lia a wintergirl, a girl living between life and death with a beating heart but not really living.  Lia and Cassie are no longer friends by the time we meet Lia, who is trapped in a world of counting and restraint.  Like her mother, Lia wants to be in control and she keeps her feelings bottled up inside.  Her parents are frustrated, and Lia's frustrated with herself because she cannot be thin enough, she cannot escape Cassie's taunting, and she cannot change.  Her parents are as trapped as she is, but Anderson has crafted a narrative that forces the reader to be trapped with them.
Lia's plight will make readers uncomfortable, especially if they have ever thought they were too fat or unpopular.  Most teens have been bullied for one reason or another, but Lia's problems go deeper than what her peers call her — the biggest problem is what she calls herself and how she hates herself when she eats, when she doesn't act "normal," and when she fails those around her and herself.  This is a harrowing tale and a nightmarish narrative that will shake readers from their complacent ideas about anorexia.
Wintergirls by Laurie Halse Anderson, narrated by Jeannie Stith, is disturbing and world-shaking.  Anderson is a powerful writer who understands teens very well, and her stories are relevant and worth reading for adults and teens.  While the subject matter may hit too close to home and concern parents that teens will take the narrative to heart and begin their own anorexia journeys, these are the books that are here to challenge our way of thinking, to make us reassess our perceptions of these disorders, and incite us into action.
I read this for Banned Books Week.
About the Author:
Laurie Halse Anderson is the New York Times-bestselling author who writes for kids of all ages. Known for tackling tough subjects with humor and sensitivity, her work has earned numerous ALA and state awards. Two of her books, Speak and Chains, were National Book Award finalists.
Mother of four and wife of one, Laurie lives in Northern New York, where she likes to watch the snow fall as she writes. You can follow her adventures on Twitter and on her tumblr.