Source:  TLC Book Tours
Hardcover, 320 pgs
I am an Amazon Affiliate
The Mapmaker's Children by Sarah McCoy is a dual narrative in which Eden and Sarah both deal with a personal dilemma.  Sarah lives during a time of turmoil for the United States, when the Underground Railroad has flourished and ensured the escape of slaves to the North and civil unrest has taken something most dear to her.  Eden lives in the modern day and she and her husband have moved into New Charlestown to start a family and slow life down a bit.  Unfortunately, their plans are sidetracked and disappointment and self-loathing are Eden's dominant emotions, until one day she finds the head of a porcelain doll in her root cellar.
"The Old House on Apple Hill Lane shuddered against the weighty snow that burdened its pitch.  The ancient beams moaned their secret pains to the wintering doves in the attic.  The nesting duo pushed feathered bosoms together, blinked, and nodded quickly, as if to say, Yes-yes, we hear, yes-yes, we know, while down deep in the cellar, the metal within the doll's porcelain skull grew crystals along its ridges.  Sharp as a knife.  The skull did all it could to hold steady against the shattering temperature for just one more minute of one more hour." (pg. 1)
McCoy is a gifted story-teller who immediately captures the attention of her readers with detail and mood.  Her books always transport readers to another time and/or place, and her characters are strong and flawed, like most of us.  Readers can connect with their struggles because they too have struggled similarly or know someone who has.  Eden's modern problem and Sarah's are the same, but how they deal with it is very different.  Eden shuts down and tries to cocoon herself against the pain and the disappointment, while Sarah takes her time and accepts it, giving up the one she loves in the process for a greater cause. Eden looks within herself for far too long and has alienated her life, but Sarah seeks an outward cause to turn her energy toward.  And the mystery that ties these women together is well woven and readers will enjoy unraveling it with Eden.
The Mapmaker's Children by Sarah McCoy is wonderful, and beautifully written.  It had me reading into the late hours until I finished!  McCoy's book is brilliantly told and chock full of research about the Underground Railroad.  But at its heart it's about learning what family is and how much that one word can include, particularly outside of one's immediate relations.
***Another contender for the Best of 2015 list!***
***If you are in Gaithersburg, Md., you'll be able to catch Sarah McCoy live at the local book festival on May 16, 2015.

Giveaway:
To win a copy, please leave a comment below by April 30, 2015, at 11:59 p.m. EST.  U.S. and Canadian residents only.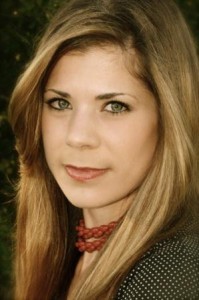 About the Author:
SARAH McCOY is the  New York Times, USA Today, and international bestselling author of The Baker's Daughter, a 2012 Goodreads Choice Award Best Historical Fiction nominee; the novella "The Branch of Hazel" in Grand Central; The Time It Snowed in Puerto Rico; and The Mapmaker's Children (Crown, May 5, 2015).
Her work has been featured in Real Simple, The Millions, Your Health Monthly, Huffington Post and other publications. She has taught English writing at Old Dominion University and at the University of Texas at El Paso. She calls Virginia home but presently lives with her husband, an Army physician, and their dog, Gilly, in El Paso, Texas. Sarah enjoys connecting with her readers on Twitter at @SarahMMcCoy, on her Facebook Fan Page or via her website, www.sarahmccoy.com.