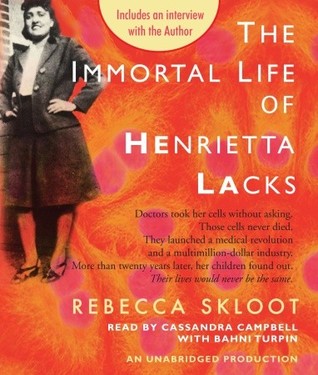 Source: Public Library
Audiobook, 12.5 hours
I am an Amazon Affiliate
The Immortal Life of Henrietta Lacks by Rebecca Skloot, narrated by Cassandra Campbell and Bahni Turpin, was our February book club selection.  Henrietta Lacks was a black woman who felt something was wrong, some lump was growing insider her, and that lump she had was eventually diagnosed as a kind of cervical cancer.  Her treatment commenced, but she bore it all on her own, telling very few in her family about it.  She also continued to bear children throughout the process.  Lacks has since become immortal in that her cancerous cells were collected and cultivated by scientists and renamed HeLa.  Those cells were used in the fight against polio and a number of other diseases.  While she was unable to see the fruits of her cells' labors, she is in a way immortal.
Rebecca Skloot injects herself into this narrative, which becomes part memoir as she recounts her interactions with Lacks' children, especially Deborah.  Skloot discovered that this family had been bombarded by requests for information long before she decided to write a book about Lacks and her cells, which had made them less than willing to speak to her.  Despite the many set backs and the paranoia that often ruled Deborah's reactions to her questions, Skloot made headway and even took family members on road trips in ways that brought the true past of their mother back to the family.  In many ways, this is not just a story about Henrietta Lacks, how her cells helped science and cured disease, or about medical ethics, but it also is a story about a family regaining its connections and its past.
The audio production was well done, especially differentiating between Deborah's thoughts and that of the author, making them easily discernible.  This audiobook also included an interview with the author about her research and her interactions with the Lacks family, as well as her writing process, which was fascinating.  And although the story shifts from the past to the current research, the book's narrative flows well and is immediately engaging for those with an interest in science, medical research, and the history of HeLa.  But even then, this is a human interest story about how a family struggles to learn about their mother and her cells and what happened in the past.
The Immortal Life of Henrietta Lacks by Rebecca Skloot, narrated by Cassandra Campbell and Bahni Turpin, packs a punch — hitting the heart of medical research and the debate about who cells belong to, what rights patients have to their own cells, whether there should be more restrictions on their use, and whether compensation should be offered to those who donate their cells.
About the Author:
Rebecca Skloot is the author of the #1 New York Times Bestseller, The Immortal Life of Henrietta Lacks. Her award winning science writing has appeared in The New York Times Magazine; O, The Oprah Magazine; Discover; and many other publications. She specializes in narrative science writing and has explored a wide range of topics, including goldfish surgery, tissue ownership rights, race and medicine, food politics, and packs of wild dogs in Manhattan. She has worked as a correspondent for WNYC's Radiolab and PBS's Nova ScienceNOW.
Book Club had to be postponed due to a snowstorm, but I cannot wait for the discussion in March!