Source: Virtual Author Book Tours
Paperback, 291 pgs
I am an Amazon Affiliate
The Demon Who Peddled Longing by Khanh Ha is set in post-war Vietnam when a country is still plagued by Khmer Rouge pirates, thefts, rapes, and other devastation.  Nam is a 19-year-old young man striving to avenge the death of his cousin after she is found naked, raped, and killed in the canals of his town after disappearing one evening.  His life was once simple, and this loss, along with the loss of his uncle shortly afterward, has left a deep emptiness in him.  Adrift in the Plain of Reeds, Nam is stumbled upon by an eccentric woman who lives on her own, and he agrees to help her and earn money as he plans out his next steps in the search for his cousin's killer.
"He felt a fever coming on while he stood in the doorway looking down at the boat.  The water-covered plain reddened as the sun went down, water and sky for one brief moment reflecting each other in a flaming red; and looking across the shimmering water he could see nothing in sight but clumps of tall bushwillows and beyond them dark rain clouds rolling in from the horizon, gigantic billowing black shapes quickly filling up the sky, and distant roars of thunder reverberating over the horizon, seemingly coming from deep in the earth like drumrolls."  (page 17 ARC)
Nam's journey from northern Vietnam to the south is fraught with danger as he runs into kind people who are twisted by longing for a better life and whose lives are darkened by loss and oppression.  His presence in their lives helps to shed light in the darkness, but it also further raises tensions in already tenuous situations.  From helping a local family haul in fish and earn money, Nam is always on the lookout for her cousin's killers.  In many ways, however, Nam's journey is serendipitous when he uncovers the truth of his cousin's death.  Along the way, he becomes a man and is free to take his life in any direction he chooses. The novel is very atmospheric and heavy at times, but readers can get lost in Nam's journey of self-discovery.
The Demon Who Peddled Longing by Khanh Ha is about the darkness that can hover over our lives, and how we each can choose to bow to that pressure or stand up to it.  Part quest and part fable, Ha has created a rich journey through the towns, canals, and fishing hamlets of post-war Vietnam that are struggling to find their way in a world that was once and in many ways still is in turmoil.  Personal demons to actual struggles with evil outside of ourselves can mark our journeys, but they do not have to define who we are.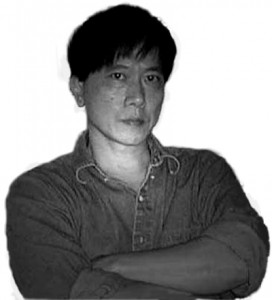 About the Author:
Khanh Ha was born in Hue, the former capital of Vietnam. During his teen years he began writing short stories which won him several awards in the Vietnamese adolescent magazines. He graduated from Ohio University with a bachelor's degree in Journalism. Flesh is his first novel. He is at work on a new novel.  Visit the author at his website.  Check out his interview.
Other works reviewed: