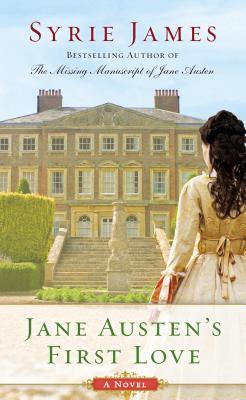 Syrie James is a quintessential Austenite and her Jane Austen-related fiction is never a disappointment.  Her latest release, Jane Austen's First Love, is a contender for the Savvy Verse & Wit Best of 2014 list.
Here's a snippet from my review:
"James cannot be praised enough for her ingenuity and dedication to the spirit of Austen and her novels.  She pays tribute to a young Jane in the best way possible.  Jane Austen's First Love by Syrie James is the author's best novel yet, and a must read for anyone who loves historical fiction, Jane Austen, or coming of age stories."
Other James' books you should consider reading include:
Today, I have a special treat … an interview with Syrie James! Please give her a warm welcome.
As a writer of Austenesque fiction, you must have a favorite Jane Austen book and character, or at least a few.  What and who are they and why?
Like many readers, my favorite Austen novel is Pride and Prejudice. It's brilliantly constructed, beautifully written, and the characters are unique, fun, and recognizable. Best of all, Elizabeth's and Darcy's character arcs as they go from intense dislike to admiration to love are so wonderfully drawn and so satisfying that the story has been endlessly imitated. Pride and Prejudice, unlike Austen's other novels, also begins with a lively conversation that grabs your attention right off the bat. I am a huge fan of Persuasion as well, with its theme about second chances. It was written later in Jane Austen's life, and her maturity as writer really shines through.
As for favorite characters, I have so many! I adore Elizabeth Bennet, with her bright eyes and feisty nature, and Anne Elliot, who is goodness personified. I think I fell in love with Mr. Darcy (along with the rest of the female world) when Colin Firth turned him into an icon. I am also mad about Captain Wentworth and Mr. Knightley, truly divine Austen heroes who feel very real to me on the page! And this may be heresy—but my two other favorite characters are Lady Catherine de Bourgh, who I love to hate, and the foolish Mr. Collins, who, with every re-reading and in every film version, always makes me laugh.
Did you always love Jane Austen's books and when did you first fall in love with them (how did you find out about them)?
I was first introduced to Jane Austen in a British literature course in college, when we read Pride and Prejudice and Emma. I don't remember my first reaction to the books, and Jane Austen didn't resurface on my radar again until the mid 1990s, when four Jane Austen films came out that quickly became my favorites: SENSE AND SENSIBILITY (Emma Thompson and Hugh Grant), PRIDE AND PREJUDICE (Colin Firth and Jennifer Ehle), PERSUASION (Amanda Root and Ciarán Hinds), and EMMA (Gwyneth Paltrow and Jeremy Northam.) Yes, it's true—I fell in love with Austen because of the movies!
I immediately read or re-read all her novels, then devoured the juvenilia, biographies, and her preserved correspondence. I was desperate to learn more about the woman who wove such incredible stories and showed such a deep understanding of human nature—and the obsession has never stopped. Because there were no Austen memoirs to discover, I wrote one myself: The Lost Memoirs of Jane Austen. Because there were no more new Austen novels to read, I decided to write one: The Missing Manuscript of Jane Austen. And because I was intensely curious to read about Jane as a teenager while experiencing her first romance, I researched and wrote Jane Austen's First Love.
As a fan of Austen, you must have visited the various sites in which she lived and visited. Which of these places is your favorite, where is it located, and why? What advice would you give someone interested in touring Austen's places?
I've taken two Jane Austen tours of England—one of them self-guided, the other as part of a formal tour group—and I've had the opportunity to visit nearly all the famous Austen sites, some of them twice. It's hard to pick a favorite, but I guess it'd have to be Chawton Cottage, now known as Jane Austen's House Museum. It was like a pilgrimage to walk through the rooms and gardens of the house where Jane lived during the nine year period when she wrote or rewrote all her masterpieces. And to see the little table where she sat by the window and wrote, was too thrilling for words!
The Austen tour that I took with my husband was absolutely wonderful, but took many months to research and plan. To see all the iconic Austen sites I'd recommend a guided bus tour, where you will enjoy the company of like-minded people, as well as guest speakers and other Austen-related events that you won't get on your own. JASNA has such a tour every year; they're run by Pathfinders, the same tour company I traveled with, and they're fabulous.
For Jane Austen's First Love, you did quite a bit of research into her mentions of Edward Taylor, who was the heir to a home in Kent. When did you know that you should stop researching and start writing? What part of the research did not make it into the book that you wish had made it in?
I continued researching the entire time I was writing the novel! Re-reading books by Jane Austen and biographies about Jane Austen while I was writing gave me an infusion of details to use here and there, and helped me to keep her voice in my head. Continuous research proved to be even more important where Edward Taylor was concerned. When I first began the novel, I hadn't found much information about him, and had created an imaginary back story for him—but it never felt right. So I kept looking. And looking.
By a stroke of luck, I came upon Edward Taylor's brother's memoirs, which filled in so many details about the Taylor family and the unusual way in which all eight children were raised abroad. What I learned was far much more fascinating and remarkable than anything I could have made up! I put all that was pertinent into my novel. There were a few great scenes however that didn't make the final cut. I had to delete one scene, for example, where Edward is telling Jane about a family excursion off the southern coast of Italy that ended in disaster. It was a great tale, but unfortunately it didn't move forward the action of my novel, so it had to go.
A much bigger disappointment was when I felt obliged to delete a scene from Chapter One, in which Jane inscribes her name and the names of three imaginary suitors in the register at her father's church at Steventon. I loved the scene I'd written, but once again, it didn't move the plot forward, and the first chapter was too long. (The deleted scene may have a new life, however, as a short story.)
As the market becomes even more saturated with works about Jane Austen and her books, do you think readers will ever tire of these spinoffs, retellings, and fictionalized accounts of her life and work?
I hope not!
What keeps you returning to Jane Austen and her world?
I love Austen for so many reasons. I love immersing myself in the way the gentry class lived and loved during the Regency era, where we rarely see anyone working (other than the servants.) Austen's characters lived in grand manor homes, were waited on hand and foot, drove around in elegant carriages, hunted on horseback, played cards and music, sang and read, sewed and drew, took walks on impeccable grounds, and danced at balls. What's not to like? Not to mention the way they dressed! Tight breeches, tailcoats, and cravats! Gossamer, empire-waisted gowns! Hair pinned up like the ancient Greeks! It's like something out of a fairy tale.
What I love most about Austen, though, is not the fairy tale setting—but the brilliant way her stories are plotted and the familiarity of her characters. We all know an overbearing woman like Lady Catherine de Bourgh, who believes she knows best and must be catered to. We've all met a sweet, kindly blabbermouth like Miss Bates. And while we laugh at Austen's fools and love to hate the villains, we can't help but fall in love with her heroes and heroines, who are all flawed—just as we are—and who must earn their happy endings by recognizing their missteps and working to correct them. That's the real reason I keep returning to Jane and her world—because her tales of courtship and romance are perfectly structured morality tales, and the lessons resonate today.
Finally, do you read poetry, why or why not? And if you do, what are some of your favorite poems and who are some of your favorite poets? Also do you read contemporary poets or classic poets, why or why not?
I've been so busy reading novels over the last twenty years that I haven't read much poetry—which I truly regret (I enjoy poetry.) While researching my three Austen novels and The Secret Diaries of Charlotte Brontë, however, I read all the poetry written by Austen and the Brontës. Jane and Charlotte wrote rather good poetry, but Charlotte's sisters Emily and Anne outshone them. I've posted a selection of the Brontës' poetry on my website, which were published together in one volume in 1846. Emily's work is as darkly compelling as her novel Wuthering Heights. One of my favorites of this collection was written by Anne Brontë (under the pseudonym Acton Bell), when she was miserable and homesick while working as a governess for a wealthy family:
Home
by Acton Bell
How brightly glistening in the sun,
The woodland ivy plays!
While yonder beeches from their barks
Reflect his silver rays.
That sun surveys a lovely scene
From softly smiling skies;
And wildly through unnumbered trees
The wind of winter sighs. . .
But give me back my barren hills
Where colder breezes rise;
Where scarce the scattered, stunted trees
Can yield an answering swell,
But where a wilderness of heath
Returns the sound as well. . .
Restore me to that little spot,
With gray walls compassed round,
Where knotted grass neglected lies,
And weeds usurp the ground.
Though all around this mansion high
Invites the foot to roam,
And though its halls are fair within-
Oh, give me back my HOME!
Many thanks for having me here, Serena, at Savvy Verse and Wit. I'm happy to answer any other questions you or your visitors might have, so feel free to leave a comment and ask away!
Please check out the other stops on the tour.
Win One of Five Fabulous Jane Austen-inspired Prize Packages

To celebrate the holidays and the release of Jane Austen's First Love, Syrie is giving away five prize packages filled with an amazing selection of Jane Austen-inspired gifts and books!
To enter the giveaway contest, simply leave a comment on any of the blog stops on the Jane Austen's First Love Holiday Blog Tour.
Increase your chances of winning by visiting multiple stops along the tour! Syrie's unique guest posts will be featured on a variety of subjects, along with fun interviews, spotlights, excerpts, and reviews of the novel. Contest closes at 11:59pm PT, December 21, 2014.
Five lucky winners will be drawn at random from all of the comments on the tour, and announced on Syrie's website on December 22, 2014. The giveaway contest is open to everyone, including international residents. Good luck to all!