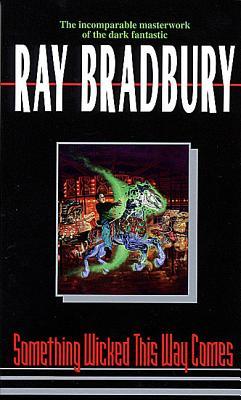 Source: Public Library
Paperback, 293 pgs
On Amazon and on Kobo
Something Wicked This Way Comes by Ray Bradbury, which I read as part of a read-a-long and for the RIP Challenge, is an odd little book about a strange carnival that enters a Midwestern town and silently creeps through the streets and feeds off of the people in that town.  Will and Jim are your typical boys, about 15-yrs-old, who look for fun and sometimes find it in the wrong places.  They stumble upon a lightning rod salesman who warns them of an upcoming, devastating storm — a storm that is likely to hit someone's house and destroy it.  Is this foreshadowing of what is to come when the carnival arrives? Perhaps, but Bradbury's prose is dense in places and cryptic, leaving many readers lost as to what is going on and which boy is which.  Perhaps the similarities are done on purpose to signify that it could have been any set of boys in the town targeted, but readers may want more to go on, a greater connection and an ability to differentiate between the two boys as the story moves forward.  Readers will get some of that when Will's father enters the picture.
"Dad winked at Will.  Will winked back.  They stood now, a boy with corn-colored hair and a man with moon-white hair, a boy with summer-apple, a man with winter-apple face."  (page 15)

"'The library,' said Will. 'I'm even afraid of it, now.'  All the books, he thought, perched there, hundreds of years old, peeling skin, leaning on each other like ten million vultures.  Walk along the dark stacks and all the gold titles shine their eyes at you.  Between the old carnival, old library and his own father, everything old…well…" (pg. 188-9)
A lot of the fear permeating the pages is atmospheric from the dark carnival and its sinister cast of characters lurking in the dark, around corners, and popping up when least expected, but there also is a sense of psychological fear, particularly when it comes to the boys and those targeted by the carnival.  Despite the issues with the oddities in the prose and the dialogue, as well as the indistinguishable characteristics of the boys, this story is haunting in its use of spiritual lore and mythology, creating a deadly combination of foes who can be reborn and reconfigured.  There is a lack of detail about the boys' relationships with their fathers and mothers, but it is the relationship between youth and old age that is the broader picture.
Something Wicked This Way Comes by Ray Bradbury is about a loss of innocence, the things we do as we age, the things we forget as we grow older and begin families of our own, and about the longing in us to recapture those carefree days and relationships.  What is the something wicked coming for you?  Only you can know the answer, and only you know how to fight it.
About the Author:
American novelist, short story writer, essayist, playwright, screenwriter and poet, was born August 22, 1920 in Waukegan, Illinois. He graduated from a Los Angeles high school in 1938. Although his formal education ended there, he became a "student of life," selling newspapers on L.A. street corners from 1938 to 1942, spending his nights in the public library and his days at the typewriter. He became a full-time writer in 1943, and contributed numerous short stories to periodicals before publishing a collection of them, Dark Carnival, in 1947.
His reputation as a writer of courage and vision was established with the publication of The Martian Chronicles in 1950, which describes the first attempts of Earth people to conquer and colonize Mars, and the unintended consequences.