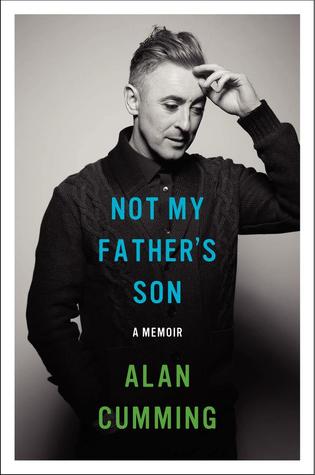 Source: Dey St. and William Morrow
Hardcover, 304 pgs
On Amazon and on Kobo
Not My Father's Son by Alan Cumming is one of the most honest, heartfelt, and engaging memoirs out there.  Cumming is the son of a Scottish family, and his father was verbally and physically abusive, but that's just part of this story.  Despite the abuse, Cumming had dreams, dreams that he ultimately hoped to achieve and did, even if they just began as fantasies of escape.  As a young boy, he was given impossible tasks by his father on a Scottish estate where they lived as caretakers, and really they were given so that he could fail and be the subject of his own father's wrath. His escape from that life was acting and school, but he was careful after several early incidents to never show too much passion or love for anything because his father would take it away.  Although his relationship with his father shaped some of his anxieties that he took with him later in life, it is his relationship with his mother that solidified his confidence in becoming the talented actor he is today.
"You see, I understood my father.  I had learned from a very young age to interpret the tone of every word he uttered, his body language, the energy he brought into a room.  It has not been pleasant as an adult to realize that dealing with my father's violence was the beginning of my studies of acting."  (page 4 ARC)
Parallels between Cumming's past and that of his mother's father, the grandfather he never knew, are drawn easily in his mind and throughout the memoir after he agrees to uncover the truth about his grandfather's death in Malaysia sometime after WWII.  Like his mother, Cumming did not have a real relationship with his father, but unlike his mother, his father lived with him for most of his life until he left for Glasgow for acting school.  Shifting between past and present in his own life, Cumming also examines his relationship to his deceased grandfather and how memory is subjective and that most people remember in an emotional way.
Not My Father's Son by Alan Cumming is not about how his father drops a bombshell on him that he is not his son.  The memoir is about how Cumming is his own man and nothing like the abusive, angry father he had, and in many ways how he is more like the grandfather he never met.  This is a contender for the Best of list this year because it is told with such honesty, self-reflection, and humor that readers will not be able to avoid examining their own lives and familial relationships.
About the Author:
Alan Cumming is an award-winning actor, singer, writer, producer and director. He recently starred in an acclaimed one-man staging of Macbeth on Broadway, and appears on the Emmy Award-winning television show The Good Wife. He won a Tony Award for his portrayal of the Emcee in the Broadway musical Cabaret, a role he is reprising in 2014.  He hosts PBS Masterpiece Mystery and has appeared in numerous films, including Spy Kids, Titus, X2: X-Men United, The Anniversary Party, Any Day Now and Eyes Wide Shut.  Photo by Ricardo Horatio Nelson.
25th book for 2014 European Reading Challenge; (Set in Scotland and England)
71st book for 2014 New Author Reading Challenge.