Mailbox Monday, created by Marcia at To Be Continued, formerly The Printed Page, has a permanent home at its own blog.
To check out what everyone has received over the last week, visit the blog and check out the links.  Leave yours too.
Also, each week, Leslie, Vicki, and I will share the Books that Caught Our Eye from everyone's weekly links.
Here's what I received: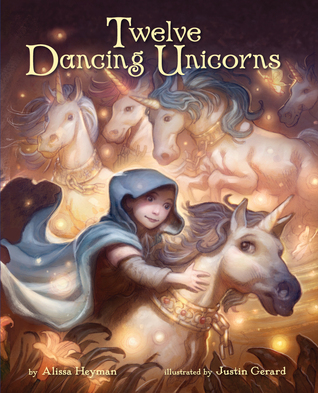 1.  Twelve Dancing Unicorns by Alissa Heyman for review.
Once upon a time, a king owned twelve enchanting unicorns that he locked up with golden chains. But every morning, he'd find the beautiful creatures peacefully asleep in their corral—with their chains shattered. Puzzled, he promised a reward to anyone who could reveal the unicorns' secret. With the help of a magic cloak, a little girl sets out to discover the truth . . . and help the special unicorn that she loves the most. This charming variation on "The Twelve Dancing Princesses," stars a delightfully spirited heroine and twelve magical unicorns.
What did you receive?