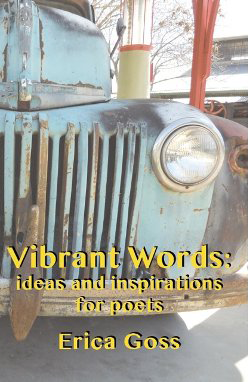 Erica Goss is the Poet Laureate of Los Gatos, CA, and the host of Word to Word, a show about poetry. She is the author of Wild Place (Finishing Line Press 2012) and Vibrant Words: Ideas and Inspirations for Poets (PushPen Press 2014). Her poems, reviews, and articles appear widely, both on-line and in print. She won the 2011 Many Mountains Moving Poetry Contest and was nominated for the Pushcart Prize in 2010 and 2013. Please visit her at Website.
We've been following her 12 Moons project with Atticus Books for some time and we've seen Snow Moon, Wolf Moon, Worm Moon, and Planters Moon.  Check out all 12 Moons.
Today's she's here to talk about her latest poetry project, Vibrant Words: Ideas and Inspirations for Poets. Please give her a warm welcome.
When my book, Vibrant Words: Ideas and Inspirations for Poets came out in late March, I decided that in order to promote it, I would attend events within a two-hour drive of my home in Los Gatos, California. I've already put plenty of miles on my Honda Fit, traveling to book-signings and poetry readings all over the San Francisco Bay Area. I've driven two hundred miles in one day to read for twenty minutes, but that's not even close to California Poet Laureate Juan Felipe Herrera. He once drove from Fresno to San Jose, a round trip of three hundred miles, to read two poems at a book release party.

In spite of my general annoyance at the amount of time I must drive, I get some of my best ideas while driving. This is not always a good thing. Once on a drive between San Jose and Sacramento (about one hundred and twenty miles) an entire poem came to me, fully formed. Not in a place where I could pull over and write, I chanted the poem to myself over and over for the next half-hour while trying to concentrate on driving the speed limit. I even imagined what I would tell the officer, should I get pulled over: "I'll show you my driver's license as soon as I write this poem down."

More often, as I enter my long-distance driving trance, bits of conversation, things I've read, and phrases from songs I'm listening to on the radio come and go in my thoughts. Part of my brain has to stay alert to drive safely, but the other part can roam, examining signs and counting the number of red cars vs. blue cars. I like finishing the terse sentences I read on highway signs: "Expect delays" becomes "Yes, I always expect delays" and "Gas Food Lodging" is kind of hilarious on its own. "Bump" is one of my favorite signs; our roads are plenty bumpy, but it takes a really spectacular bump to warrant a sign.

Traffic often grinds to a halt (like the sign says, "expect delays.") I'll pull out my Moleskine notebook and make a few notes: "sleep bone," "I carry a purse and talk to strangers," "recipe for lasagna," "if marriage was a cookbook," and "crows are so American" are all from recent traffic stops.

Since the release of Vibrant Words, I've driven from the Pacific Ocean to the Central Valley, and I'm just starting out. I hope to bring my book to places farther and farther from home, but if it gets too far, I think I'll fly. Plus, I need new tires.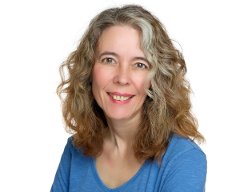 Erica is truly a driven poet. Thanks so much for sharing your travels and your inspiration with us.
Save