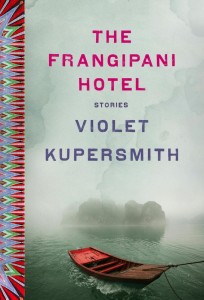 Source: Random House and TLC Book Tours
Hardcover, 256 pages
I am an Amazon Affiliate
The Frangipani Hotel by Violet Kupersmith is a fresh short-story collection that spans the Vietnamese culture, myths, and the immigrant experience, straddling reality and the magical.  The Vietnam War hovers in the background of the characters' lives as the mothers struggle to garner U.S. visas for themselves and their children born of American soldiers in "Guests" or in "Boat Story," where a grandson asks his grandmother to explain her escape from Vietnam during the war.  Kupersmith's style is clear and engaging, and the myths and magical moments are told in a storytelling style that is reminiscent of the oral traditions in Vietnamese culture.
"Whatever spirit had reanimated the corpse must have been a feeble one, for the body moved clumsily, legs stiff but head dangling loose as it struggled to keep its balance on the angry waves.  Grandpa sank down to his knees next to me, and we peered over the gunwale in helpless horror as the body tottered closer and closer." (Page 8 ARC)
From ghosts in the Frangipani Hotel to the spirits in the woods, Kupersmith weaves in magic and myth seamlessly with reality. Her characters are oddities and not; they are rational but also open-minded about the unseen.  From the twin girls who border on feral to the young man who finds a ghost in the hotel, her characters are both real and unreal — they have a mystical quality.  The prose is witty, with a few moments that will leave readers chuckling.  At other times, the stories tackle serious issues like immigration and the soldiers who leave women behind with babies when the war is over, though with a sense of irony that never feels misplaced.
She can lull readers into a sense of complacency before her prose unsettles their world, and the mark of a great storyteller is one that can shift from male and female points of view with ease and who can create stories that will stay with readers long after they've been read.  The stories in The Frangipani Hotel by Violet Kupersmith shift in setting and time, but the roots do not change, merely grow and curl as the tales unfold.
***U.S. residents can enter to win 1 copy of Violet Kupersmith's The Frangipani Hotel by leaving a comment by March 10, 2014, 11:59 PM EST.***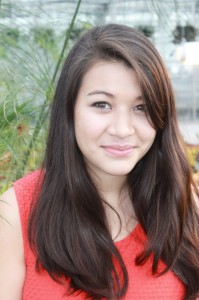 About the Author:
Violet Kupersmith was born in rural Pennsylvania in 1989 and grew up outside of Philadelphia. Her father is American and her mother is a former boat refugee from Vietnam. After graduating from Mount Holyoke College she received a yearlong Fulbright Fellowship to teach and research in the Mekong Delta. She is currently at work on her first novel.
7th book (Vietnam War) for the 2014 War Challenge With a Twist.
6th book for 2014 Historical Fiction Reading Challenge.
10th book for 2014 New Author Challenge.