Source: Penguin
Paperback, 336 pages
I am an Amazon Affiliate
***Beware that this review could contain spoilers as this is the 4th book in the series.***
Return to Tradd Street by Karen White brings Melanie Middleton face-to-face with everything she's been avoiding — her feelings for Jack Trenholm, the future of 55 Tradd Street, and her pending parenthood — but Melanie still falls back on her trademark effort to avoid tough decisions even when decisions look as if they'll be made for her.  Her gift has helped her hone her avoidance skills over the years, but as she continues to live and refurbish one of the oldest houses in Charleston — one she inherited from a man she met only once — her skills are put to the test when another body is found on the property.  The infant body bricked up in the foundation of the house raises a lot of questions about the Vanderhorst family tree.
"Pregnancy hormones coupled with a rejected declaration of love and a marriage proposal based on pity had wreaked havoc on my self-confidence and backbone.  I wasn't sure whether I could ever recover.  Besides I'd lived my life on the premise that if you pretended something wasn't there it would eventually go away.  At least, it usually worked where dead spirits were concerned."  (page 5)
Pregnancy can play with anyone's emotions and confidence, but Melanie is particularly thrown by the uncertainty of the baby's father's feelings toward her.  Between her mother, Jack, and Sophie pushing her to face the reality of her pregnancy, Melanie is feeling the pressure.  White brings readers back to the characters they love, and they will still cheer for Melanie to get over herself and accept her feelings for Jack.  This story is a little spookier than the others in the series, but perhaps that's because it will hit closer to home for mothers and parents.
"I smoothed down the red maternity dress, noticing how it fit much more snugly than when my mother had purchased it for me only a few months before.  I'd resisted wearing it, but it was Nola's Christmas play and I wanted to look festive.  I wore my mother's diamond pendant earnings that, according to her, would draw the eye upward, away from my expanding girth.  As I stared at myself in the vestibule mirror, I knew it was like planting flowers in the window boxes of a burned-out house so nobody would notice it needed painting." (page 220)
Return to Tradd Street by Karen White is engaging, endearing, and enthralling with its mysteries, its pent up tension, and its historical tidbits, and White's characters are always ready to give you a warm embrace when you need one.  The novel is about letting go of past hurts, embracing our histories as part of who we are today, and moving forward by grabbing a hold of what we want most out of life.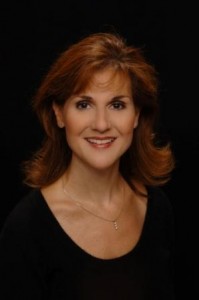 About the Author:
Known for award-winning novels such as Learning to Breathe, the Southern Independent Booksellers Alliance 2009 Book of the Year Award finalist The House on Tradd Street, the highly praised The Memory of Water, the four-week SIBA bestseller The Lost Hours, Pieces of the Heart, and her IndieBound national bestseller The Color of Light, Karen has shared her appreciation of the coastal Low country with readers in four of her last six novels.
Italian and French by ancestry, a southerner and a storyteller by birth, Karen has made her home in many different places.  Visit the author at her website, and become a fan on Facebook.