Source: TLC Book Tours and Harper
Hardcover, 368 pages
I am an Amazon Affiliate
Sense & Sensibility by Joanna Trollope is the first of the books in Harper's Austen Project in which six bestselling contemporary authors use Jane Austen's famous novels as a basis for their own modern versions.  With so many modern day versions, spin-offs, and continuations of Austen's classic books, the expectations for the project are likely high, but this first rendition is a mixed bag.  While sticking very close to the original plots, Trollope's main contribution to the original is an exaggeration of the characters — Elinor has too much sense (even more than Austen's version) and Marianne is overly dramatic at every turn — and the introduction of modern technology, like Twitter, YouTube, iPods, and Facebook.  Although the exaggerated characters could be considered parody in a way, in some scenes they come off as merely annoying.
"It had been made plain to Sir John, from a young age, that the luxury of making choices in life simply did not exist without money.  Money was not an evil." (page 42 ARC)
The social conventions of Austen's time continue to play a role here, with characters motivated to find matches with money because without them, they will be destitute.  But in this modern society, it is hard to see that women would have just this option open to them, unless they are as shallow as Lucy Steele.  In fact, Elinor takes a job, at least part time until she completes her degree, but most everyone else seems content to sponge off their richer relatives, without much gratitude — though with relatives like these, it would be hard to muster gratitude.  Trollope clearly understands the foils that Marianne and Elinor play in the novel, and her exaggerations of their character in a modern society of social media may seem a bit much, but for young women constantly surrounded by their faults and mistakes, it might be believable.  Elinor, here, seems to represent a need in society for privacy, a greater need than society seems willing to allow unless people completely withdraw from society.  She's strong, but at the same time, she's vulnerable, as she pines for Edward.
Trollope has done a superb job with the youngest sister, Margaret, a young girl struggling with her emotions after her father's death, being pushed out of the only home she's ever known (Norland), and moving to a new school without her friends.  Bill Brandon is still reserved and quietly watching in the background, still considered boring by Marianne, and still caring, but there is a dynamic Trollope adds that will have readers cheering for something that was not in the original.  Meanwhile, John "Wills" Willoughby is even more dastardly in Trollope's novel, yet he is still partially redeemable if you can buy that marrying for money is still a motivator in society, which it might still be among the more wealthy families.  Sense & Sensibility by Joanna Trollope is more focused on the excess in modern society as seen through her take on Marianne, Margaret, Elinor and the other characters, which can be extrapolated from their reactions to events and relationships.  Although readers would expect a more cohesive melding of the modern world with Austen, Trollope has created a new commentary on society that applies more easily to the modern world's emphasis on excess and self-promotion.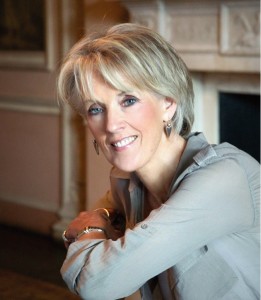 About the Author:
Joanna Trollope is the #1 bestselling author of eighteen novels, including The Soldier's Wife, Daughters-in-Law, Friday Nights, The Other Family, Marrying the Mistress, and The Rector's Wife. Her works have been translated into more than twenty-five languages and several have been adapted for television. She was appointed to the Order of the British Empire in 1996 for her services to literature, and served as the Chair of Judges for the Orange Prize for Fiction 2012. She lives in London and Gloucestershire.  Find out more about Joanna on her website.  Photo credit: Barker Evans.
This is my 74th book for the 2013 New Authors Challenge.