Mailbox Monday (click the icon to check out the new blog) has gone on tour since Marcia at A Girl and Her Books, formerly The Printed Page passed the torch.  June's host is Dolce Bellezza.
The meme allows bloggers to share what books they receive in the mail or through other means over the past week.
Just be warned that these posts can increase your TBR piles and wish lists.
Here's what I received:
1.  Waiting to Be Heard by Amanda Knox from my mother.
Amanda Knox spent four years in a foreign prison for a crime she did not commit.

In the fall of 2007, the 20-year-old college coed left Seattle to study abroad in Italy, but her life was shattered when her roommate was murdered in their apartment.

After a controversial trial, Amanda was convicted and imprisoned. But in 2011, an appeals court overturned the decision and vacated the murder charge. Free at last, she returned home to the U.S., where she has remained silent, until now.

Filled with details first recorded in the journals Knox kept while in Italy, Waiting to Be Heard is a remarkable story of innocence, resilience, and courage, and of one young woman's hard-fought battle to overcome injustice and win the freedom she deserved.

With intelligence, grace, and candor, Amanda Knox tells the full story of her harrowing ordeal in Italy—a labyrinthine nightmare of crime and punishment, innocence and vindication—and of the unwavering support of family and friends who tirelessly worked to help her win her freedom.
2.  Gracianna by Trini Amador for review with Historical Fiction Virtual Book Tours in August.

Gracianna is inspired by true events in the life of Trini Amador's great-grandmother, Gracianna Lasaga. As an adult, Amador was haunted by the vivid memory of finding a loaded German Luger tucked away in a nightstand while wandering his great-grandmother's home in Southern California. He was only four years old at the time, but the memory remained and he knew he had to explore the story behind the gun.

Decades later, Amador would delve into the remarkable odyssey of his Gracianna's past, a road that led him to an incredible surprise. In Gracianna, Amador weaves fact and fiction to tell his great-grandmother's story.

Gracianna bravely sets off to Paris in the early 1940s–on her way to America, she hopes–but is soon swept into the escalation of the war and the Nazi occupation of Paris. After chilling life-and-death struggles, she discovers that her missing sister has surfaced as a laborer in Auschwitz. When she finds an opportunity to fight back against the Nazis to try to free her sister, she takes it–even if it means using lethal force.
3.  Loteria by Mario Alberto Zambrano for review with TLC Book Tours in July.
With her older sister Estrella in the ICU and her father in jail, eleven-year-old Luz Castillo has been taken into the custody of the state. Alone in her room, she retreats behind a wall of silence, writing in her journal and shuffling through a deck of lotería cards. Each of the cards' colorful images—mermaids, bottles, spiders, death, and stars—sparks a random memory.

Pieced together, these snapshots bring into focus the joy and pain of the young girl's life, and the events that led to her present situation. But just as the story becomes clear, a breathtaking twist changes everything.
4.  City of Hope by Kate Kerrigan for review from the publisher.
The heartrending and inspiring sequel to Ellis Island, Kate Kerrigan's City of Hope is an uplifting story of a woman truly ahead of her time

When her beloved husband suddenly dies, young Ellie Hogan decides to leave Ireland and return to New York, where she worked in the 1920s. She hopes that the city will distract her from her anguish. But the Great Depression has rendered the city unrecognizable. Gone are the magic and ambiance that once captured Ellie's imagination.

Plunging headfirst into a new life, Ellie pours her passion and energy into running a refuge for the homeless. Her calling provides the love, support, and friendship she needs in order to overcome her grief—until, one day, someone Ellie never thought she'd see again steps through her door. It seems that even the vast Atlantic Ocean isn't enough to keep the tragedies of the past from catching up with her.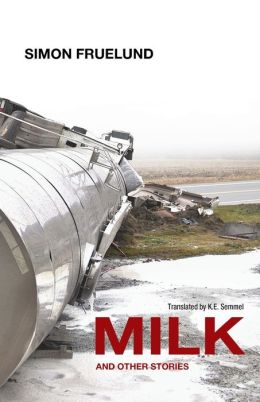 5.  Milk and Other Stories by Simon Fruelund, translated by K.E. Semmel for review from the translator.
The 14 stories in this collection display the often quiet, inconspicuous way in which terrible truths and experiences are intimated: the death of a sailboarder makes a widower see deeper into love and loss; a young poet visits his former teacher only to discover he is literally not the person he used to be; a middle-aged man glimpses the terrible humdrum of his third marriage as his son embarks on a new chapter in his life. Conveyed without grandeur or pathos, the revelations in these minimalist stories demonstrate clearly and effectively Fruelund's gift of subtlety and nuance; like scenes from life, characters' dramas are played out in brief but brilliant flashes. Ranging across the wide arc of human experience, from the comic to the tragic, each piece explores the complex emotions of the human heart.
What did you receive?