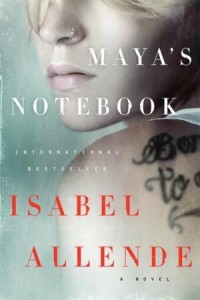 Book Source: HarperCollins and TLC Book Tours
Hardcover: 400 pgs
I am an Affiliate of Amazon.com
Maya's Notebook by Isabel Allende is written in a notebook form without chapter breakdowns and is not a linear narrative.  Maya Vidal is a very troubled youth when tragedy strikes her very unconventional family of her pilot father who is rarely home, her grandparents Nidia and Popo, her absent mother Marta Otter, and the family friend Mike O'Kelly.  The novel is a departure from Allende's typical historical fiction novels, but do not expect history to be absent from this coming-of-age novel — the takeover of Chile by Pinochet is present in the background, hanging over the Vidal family like a hazy cloud.  From her nose ring and tattoos to her goth clothes, Maya and her vampire friends set out on a path of self-destruction as a way to rebel against their family lives that they claim are very distasteful and harmful.  However, unlike Debbie and Sarah, Maya's life is far from abusive and emotionally vacant, though it has changed significantly.
"I love some of the island's customs, like truco, but there are others that bug me.  If a chucao, a tiny loudmouthed bird, chirps to the left of me, it's bad luck, so I should take off a piece of clothing and put it back on inside out before going any farther; if I'm walking at night, I'm supposed to carry a clean knife and salt, because if I cross paths with a black dog with one ear lopped off, that's a brujo, and in order to get away I have to trace a cross in the air with the knife and scatter salt."  (Page 47 ARC)
Allende is a novelist that handles details with aplomb, weaving them in the disjointed narrative at just the right time, leading readers on an emotional journey that evokes not only frustration at Maya's behavior, but also one of sympathy and sadness for the losses she feels.  She needs to hit rock bottom in order to climb up and rebuild her life, even though she falls off a high cliff into the abyss of drug dealers, mafia criminals, and the sex trade.  Allende does not sugarcoat anything that Maya experiences in her rehab stints or her escapes and drop off the map inside Las Vegas.  Unwittingly or willfully blind, Maya stumbles into a crime ring that is bigger than she ever thought it could be and it puts her life and the lives of her loved ones in danger as she never could have imagined. However, the end game with the conspiracy feels a bit contrived.
Maya's past is never far behind, even as her life spirals out of control, chirping behind her ear at every turn.  Running is the only way she knows how to deal with her emotions, and its the way her family has dealt with the harsh struggles of their lives since the time of Pinochet. The ties that bind this family are stronger than ever, even as dynamics change between them and secrets of the past are uncovered. Love is the strongest tie, but fear also can be a great motivator as the walls close in. Maya's Notebook by Isabel Allende is a modern marvel that will make a lasting impression on readers as a headstrong girl becomes unmoored and is forced to not only confront her own demons but the ghosts of the past.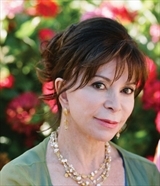 About the Author:
Born in Peru and raised in Chile, Isabel Allende is the author of many bestselling novels, including, most recently, Island Beneath the Sea, Ines of My Soul, Zorro, Portrait in Sepia, and Daughter of Fortune. She has also written a collection of stories; three memoirs, The Sum of Our Days, My Invented Country, and Paula; and a trilogy of young adult novels. Her books have been translated into more than 27 languages and have become bestsellers across four continents. In 2004 she was inducted into the American Academy of Arts and Letters. Allende lives in California.  Find out more about Allende, her books, and her foundation at www.isabelallende.com, and connect with her on Facebook.