Mailbox Mondays (click the icon to check out the new blog) has gone on tour since Marcia at A Girl and Her Books, formerly The Printed Page passed the torch. This month's host is Chaotic Compendiums.

The meme allows bloggers to share what books they receive in the mail or through other means over the past week.
Just be warned that these posts can increase your TBR piles and wish lists.
Here's what I received from my mom: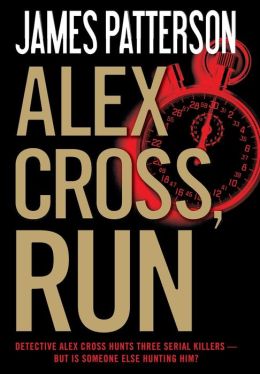 1.  Alex Cross, Run by James Patterson
Top plastic surgeon Elijah Creem is renowned for his skills in the operating room, and for his wild, no-expense-spared "industry parties," bringing in underage exotic dancers and models for nights of drugs, champagne, and uninhibited sex. That is, until Detective Alex Cross busts one of Creem's lavish soirees and ruins his fun. Now Creem is willing to do anything to avoid going to jail.

But Alex doesn't have time to dwell on that case. A beautiful woman has been found murdered in her car, a lock of her hair viciously ripped off. Then a second woman is found hanging from a sixth-floor window with a brutal scar slashed across her stomach. When a third mutilated body is discovered, rumors of three serial killers on the loose send Washington D.C. into an all-out frenzy.
2.  Francona by Terry Francona and Dan Shaughnessy
From 2004 to 2011, Terry Francona managed the Boston Red Sox, perhaps the most scrutinized team in all of sports. During that time, every home game was a sellout. Every play, call, word, gesture—on the field and off—was analyzed by thousands. And every decision was either genius, or disastrous. In those eight years, the Red Sox were transformed from a cursed franchise to one of the most successful and profitable in baseball history—only to fall back to last place as soon as Francona was gone. Now, in Francona: The Red Sox Years, the decorated manager opens up for the first time about his tenure in Boston, unspooling the narrative of how this world-class organization reached such incredible highs and dipped to equally incredible lows. But through it all, there was always baseball, that beautiful game of which Francona never lost sight.
3.  Summer Rental by Mary Kay Andrews
Sometimes, when you need a change in your life, the tide just happens to pull you in the right direction….Ellis, Julia, and Dorie. Best friends since Catholic grade school, they now find themselves, in their mid-thirties, at the crossroads of life and love. Ellis, recently fired from a job she gave everything to, is rudderless and now beginning to question the choices she's made over the past decade of her life. Julia—whose caustic wit covers up her wounds—has a man who loves her and is offering her the world, but she can't hide from how deeply insecure she feels about her looks, her brains, her life. And Dorie has just been shockingly betrayed by the man she loved and trusted the most in the world…though this is just the tip of the iceberg of her problems and secrets. A month in North Carolina's Outer Banks is just what each of them needs. Ty Bazemore is their landlord, though he's hanging on to the rambling old beach house by a thin thread. After an inauspicious first meeting with Ellis, the two find themselves disturbingly attracted to one another, even as Ty is about to lose everything he's ever cared about. Maryn Shackleford is a stranger, and a woman on the run. Maryn needs just a few things in life: no questions, a good hiding place, and a new identity. Ellis, Julia, and Dorie can provide what Maryn wants; can they also provide what she needs? Five people questioning everything they ever thought they knew about life. Five people on a journey that will uncover their secrets and point them on the path to forgiveness. Five people who each need a sea change, and one month that might just give it to them.
Here's what I bought at AWP's Writer's Conference last week in Boston:
4.  Tipping Point: 20th Anniversary Edition by Fred Marchant
With his deft and timeless blend of the lyrical and narrative, Fred Marchant explores the wars inside us and the ones we wage in the world: spiritual, familial, political. Says Tom Sleigh, "In the spirit of Wilfred Owen, Tipping Point is a book seared by personal and historical fact." This 20th Anniversary Edition, with a new introduction by Nick Flynn, celebrates what Sven Birkerts calls, "the larger contexts in which our deeds and gestures come to matter." Flynn concludes, "Tipping Point arrives, twenty years or two thousand years later, eternal and utterly ever-present."
5.  The Scabbard of Her Throat by Bernadette Geyer
"The poems in Bernadette Geyer's The Scabbard of Her Throat are saturated by touch: fingers on a throat, hand on a door, wasp, clasped to a cicada's back, fever to bodies, daughters to mothers, mythologies to linoleum. Her lines soothed, they bruised, they entered my ear and held." — Cornelius Eady, author of Brutal Imagination
Here's my unexpected review copy:
6.  Midnight Sacrifice by Melinda Leigh
One by one, people are mysteriously disappearing from a small Maine town.
Four months ago, a ruthless murderer killed two people and kidnapped three more, including Danny Sullivan's sister, who barely escaped. Unfortunately so did the killer, vanishing without a trace into the vast wilderness. When the police fail to find his sister's captor, Danny returns to Maine to hunt him down.
He begins his search with another survivor, bed and breakfast owner Mandy Brown, but her refusal to cooperate raises Danny's suspicions. What is the beautiful innkeeper hiding?
Mandy Brown has a secret. But sexy Danny Sullivan, his relentless questions, and the desire that simmers between them threaten to expose the truth. A revelation that puts her family in danger. As more people disappear, it becomes clear the killer is planning another ritual…and that he's circling in on Mandy.
What did you receive?