Mailbox Mondays (click the icon to check out the new blog) has gone on tour since Marcia at A Girl and Her Books, formerly The Printed Page passed the torch. This month's host is Unabridged Chick.
The meme allows bloggers to share what books they receive in the mail or through other means over the past week.
Just be warned that these posts can increase your TBR piles and wish lists.
Here's what I received: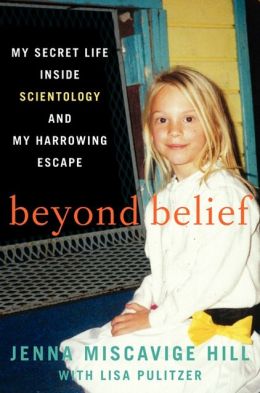 1.  Beyond Belief:  My Secret Life Inside Scientology and My Harrowing Escape by Jenna Miscavige Hill and Lisa Pulitzer, which came unexpectedly from William Morrow.

Jenna Miscavige Hill, niece of Church of Scientology leader David Miscavige, was raised as a Scientologist but left the controversial religion in 2005. In Beyond Belief, she shares her true story of life inside the upper ranks of the sect, details her experiences as a member Sea Org—the church's highest ministry, speaks of her "disconnection" from family outside of the organization, and tells the story of her ultimate escape.

In this tell-all memoir, complete with family photographs from her time in the Church, Jenna Miscavige Hill, a prominent critic of Scientology who now helps others leave the organization, offers an insider's profile of the beliefs, rituals, and secrets of the religion that has captured the fascination of millions, including some of Hollywood's brightest stars such as Tom Cruise and John Travolta.
2.  Life After Life by Kate Atkinson from Hachette Books unexpectedly.
What if you could live again and again, until you got it right?

On a cold and snowy night in 1910, Ursula Todd is born to an English banker and his wife. She dies before she can draw her first breath. On that same cold and snowy night, Ursula Todd is born, lets out a lusty wail, and embarks upon a life that will be, to say the least, unusual. For as she grows, she also dies, repeatedly, in a variety of ways, while the young century marches on towards its second cataclysmic world war.

Does Ursula's apparently infinite number of lives give her the power to save the world from its inevitable destiny? And if she can — will she?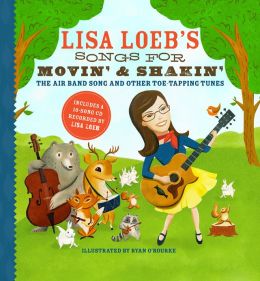 3.  Lisa Loeb's Songs for Movin' and Shakin by Lisa Loeb for review in April.
This spectacularly fun songbook will get kids off the sofa—guaranteed!

Singer Lisa Loeb will have kids movin' and groovin' with her sparkling second collection of songs, activities, and recipes—plus a CD with five all-time children's favorites and another five original tunes. It's sure to stir up some fun, as budding musicians discover the joys of playing in an air band ("Turn it Down"); see how to face down scary creatures ("Monster Stomp"); and practice relaxing yoga poses ("Hello, Today"). Ryan O'Rourke's whimsical illustrations light up Lisa's lyrics—and will delight young readers, movers, and shakers.

Songs include:
Turn it Down (The Air Band Song)* •  Father Abraham  •  Miss Mary Mack • Monster Stomp*  • Going Away* •  Do Your Ears Hang Low? •  Everybody Wake Up* • Hello, Today* •  Peanut Butter and Jelly  •  Head, Shoulders, Knees, and Toes.
(*original song)
4.  Evidence of Life by Barbara Taylor Sissel, which came unexpectedly from BookTrib.
On the last ordinary day of her life, Abby Bennett feels like the luckiest woman alive. But everyone knows that luck doesn't last forever…As her husband, Nick, and daughter, Lindsey, embark on a weekend camping trip to the Texas Hill Country, Abby looks forward to having some quiet time to herself. She braids Lindsey's hair, reminds Nick to drive safely and kisses them both goodbye. For a brief moment, Abby thinks she has it all—a perfect marriage, a perfect life—until a devastating storm rips through the region, and her family vanishes without a trace.

When Nick and Lindsey are presumed dead, lost in the raging waters, Abby refuses to give up hope. Consumed by grief and clinging to her belief that her family is still alive, she sets out to find them. But as disturbing clues begin to surface, Abby realizes that the truth may be far more sinister than she imagined. Soon she finds herself caught in a current of lies that threaten to unhinge her and challenge everything she once believed about her marriage and family.

With a voice that resonates with stunning clarity, Barbara Taylor Sissel delivers a taut and chilling mystery about a mother's love, a wife's obsession and the invisible fractures that can shatter a family.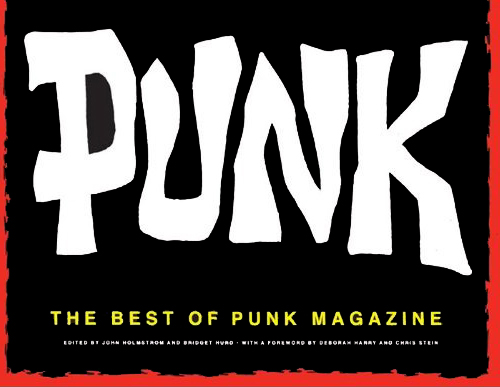 5.  The Best of Punk Magazine by John Holmstrom from the publisher for review.

The very best of Punk—the legendary magazine that defined an era—finds new life in this stunning anthology, featuring original articles along with behind-the-scenes commentary and the backstory on each issue as told by editor-in-chief John Holmstrom. Punk was the Bible of the urban counterculture movement. It not only gave punk music its name, but influenced the East Village art scene and steered the punk aesthetic and attitude. The Best of Punk Magazine includes high-quality reprints of hard-to-find original issues, as well as rare and unseen photos,essays, interviews, and even handwritten contributions from the likes of Andy Warhol, Lou Reed, Debbie Harry, the Ramones, the Sex Pistols, Lester Bangs,Legs McNeil, Lenny Kaye, and many more. For collectors, lifelong punks, and those just discovering what punk is all about, this is the chance see the history of the movement come back to life.
6.  Six Sisters' Stuff:  Family Recipes, Fun Crafts, and So Much More for review.
Cook, craft, and create with recipes, projects, and ideas from the enormously popular blog SixSistersStuff.com. Every recipe and project included in this book is quick, easy, and fun. More than 100 family-favorite recipes (including an entire section of slow-cooker recipes), use ingredients commonly found in your pantry. The crafts and home décor projects have easy-to-follow instructions with photographs and can be made with little or no money. We don t profess to be amazing chefs, they claim. We just know the importance of feeding our families a home-cooked meal and sitting down to eat it together. Our mom and dad taught us so many great values, and we are thankful that they instilled the importance of family time in our lives. Even the busiest of people can make the food and project ideas we share, which will give you even more time to spend with your family and loved ones. SixSistersStuff.com is an online phenomenon. More than 5 million page views per month More than 50,000 Facebook followers Nearly 10,000 followers on Twitter More than 80,000 followers on Pinterest.
What did you receive?