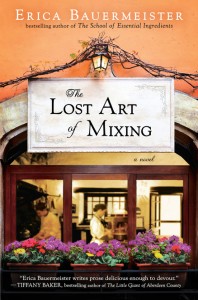 The Lost Art of Mixing by Erica Bauermeister was one of my favorite books from last year and continues where The School of Essential Ingredients left off.  I said in my review of The Lost Art of Mixing, "Bauermeister has created another set of deep characters with nuanced personalities and places them in unusual situations that are all at once odd and plausible, and readers will be swept up in the relationships within these pages and how the characters mingle and mesh with one another in different ways."
Today, I've got a giveaway and a great interview for you.  Without further ado, here's my interview with Ms. Bauermeister:
The role of food as a way to connect people to one another and their memories is strong in both The School of Essential Ingredients and The Lost Art of Mixing. What is your relationship with cooking and is there someone in your life that sparked your interest in the culinary arts?
My relationship with cooking is similar to Lillian's. I am far less intuitive when it comes to matching people and food – but I do love playing with ingredients. Interestingly, the spark came from a place more than a person. I was brought up in a recipe-oriented household, and it was language I was never really comfortable with. In 1997, my husband was relocated to Italy and we took our children and lived there for two years. No one I met there used recipes – they cooked with their five senses. That approach was felt as natural as breathing. I haven't looked back.
Lillian has a pretty good head on her shoulders when it comes to connecting people in her cooking classes to others and themselves but when it comes to her own life, she seems adrift. How did you come to create her as a character and what elements of her personality were strongest to you when you started writing her?
I think many of us know someone who has taken a gift or talent and hidden inside its beauty. We're so in awe of the magic, we forget to look inside.
When it came to Lillian, I started with two images in The School of Essential Ingredients – a woman wise beyond her years, and a child who had been abandoned and had turned to cooking for solace. In The Lost Art of Mixing I wanted the chance to go deeper into her character, to explore Lillian as the flawed and wonderful human being that she is. Her strength becomes more complicated in Mixing, and that makes her even more interesting to me.
In terms of cooking, would you consider yourself a follower of recipes or someone who experiments in the kitchen with just a few guiding principles. Name one successful dish you've created and one that didn't work as well.
If I am learning a new cuisine –Thai or Indian, for example – I'll need to use recipes for a while to learn those guiding principles. But once I understand the basic grammar, I want to go play.
One of my favorite things to do is to open the refrigerator and see what I have left over, and then turn those ingredients into something new. One of my favorites was a butternut squash, pancetta, garlic, cream, and truffle oil sauce served over penne pasta. It tasted like autumn, but in a completely seductive way.
Less successful? I was trying to see just how little flour I could put in cookies. I went from one batch that was light and crispy and wonderful to a complete mess in the next. Yes, there is a tipping point.
The Lost Art of Mixing deals a lot less with the creation of food and there is less food imagery than the first book, but the title still calls to readers' minds the idea of cooking. Why the absence of strong food imagery and elements in this book?
One of my main goals in writing is to get my readers to slow down and pay attention. Cooking provides a wonderful opportunity to do that, but it isn't the only way. In my second novel, Joy For Beginners, I branched out into gardening and perfume and books and travel and pottery – all of them activities that are more rewarding when you slow down and use your five senses. In The Lost Art of Mixing I wanted to remind readers to pay attention to those around them.
So why the title? In my mind, the "mixing" refers to the characters and the situations they get themselves into. There are four pairs of characters in this novel, each pair in the midst of misunderstanding. My job was to present those conflicts from the viewpoint of each of the characters involved – allowing the reader to stand in the middle and become immersed in both sides of an argument, to mix, as it were. I think empathy is one of the most valuable qualities a human being can possess.
Finally, what are some of the best poems/poets you've read recently and do you prefer contemporary or classic poetry? Why or why not?
The creating of rhythms and the making of images are two of my favorite parts of writing. I probably spend more time on that than anything. And yet, I could never write poetry, and I am in awe of those who do.
Some of my favorite poets are those who take ordinary parts of a day and shine a new light on them. I love the way Billy Collins can be writing about losing your memories in a way that feels comfortable and familiar, until the last two lines, when the poem suddenly surges into beauty. Mary Oliver does the same thing with the natural world, observing closely and then making us see something new and brilliant. They cause me to slow down and pay attention to the day around me, and in doing so give it meaning.
Thanks, Erica Bauermeister for writing such great books with wonderful characters.
Giveaway is open to US/Canada readers through Jan. 11, 2013. To enter for a copy of The Lost Art of Mixing, please leave a comment with one of your favorite recipes.