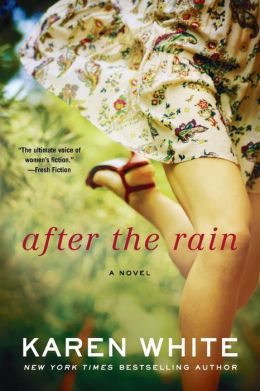 After the Rain by Karen White is a republished and remastered novel that is full of twists and turns, touches lightly on the desolation of a broken family life and the darkness people can fall into as a result, and the hope that just might be around the corner.  Suzanne Paris is on a bus to Atlanta when she decides on a whim to get off in Walton, Ga., where she meets a large family and finds the home she's been looking for all of her life.  But with the sun comes rain.  And there is a deluge of it in this book.
Suzanne has a past that is not far behind her, even as her freelance photography job takes her to many places.  She's running from a life and for her life, and White has created a character who is both likeable and unlikeable.  She keeps secrets even from those know care for her, and her ability to trust others is very tenuous and easily broken by the wrong word or action, which White captures easily in her imagery.  From how she's described by the muscular, hot mayor Joe Warner — who also teaches at the high school and coaches football — to how Suzanne pauses before answering questions about her past, readers will find a character who is taken in slowly by the small town and its residents but frightened of how her own past could harm them.
"Tides change.  So does the moon.  With the unfailing constancy of brittle autumn closing in on bright summer, things always changed.  If Suzanne had ever had faith in anything, it was in knowing that all things were fleeting.  And for good reason.  The highway of life was littered with the roadkill of those who didn't know when to change lanes."  (Page 1)
While things can be fleeting in life, there are things that are ever-lasting, and in this case, White talks about the support systems that we can have within our own families.  Whether those families are the ones we are born into or the ones we fall into or create out of friends and husbands and our own children, they are there to love and support us unconditionally.  Suzanne has a lot of lessons to learn, but the slow unraveling of her fears and her heart is endearing.  In many ways, though she's an adult, she's like a child being led into the life she's always wanted.
"'Amanda! You quit right now or I'm gonna jar your preserves!'"  (Page 5)
Photography plays a large role in the novel, and Suzanne not only takes photos of the people in Walton but also finds that she's become a part of the town's tapestry as she weaves parts of herself into the photos she takes.  Even more poignant, she connects with teenage Maddie when she shares with her the techniques a budding photographer needs to learn that are not necessarily taught in art classes.  After the Rain also offers readers that down-home southern feel that all of White's novels have — from the caring strangers to the idioms that make the place its own.  There are moments when readers will want to strangle Suzanne for her decisions, and some events are easy to see coming, but the way White writes these characters and their story endears them to readers and ensures their love and struggles will never be forgotten.