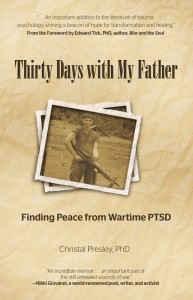 Thirty Days With My Father:  Finding Peace From Wartime PTSD by Christal Presley, Ph.D., is the result of a 30-day project Presley undertook to get to know her father and his Vietnam War experiences after not relating for more than a decade, and she got much more than she expected.  Alternating between conversations wither her father and memories written down in her journal — the idea of her therapist — Presley relives parts of her own past just as her father does when speaking of Vietnam and what happened there.
Delmer Presley was drafted into the Vietnam War and never once thought about running off and dodging the draft, and he was a member of Americal Division, First Battalion, Sixth Infantry, referred to as the Gunfighters.  He entered the war following the Tet Offensive and came back a changed man.  While Presley's book talks about his experiences as they were related to her during phone conversations and other encounters with her father, the memoir focuses mainly on Christal Presley's intergenerational PTSD symptoms and childhood as it relates to those war memories.
Living in constant fear due to unpredictable behavior and other outside forces can cause heightened awareness fueled by adrenaline.  In the case of warriors and soldiers, this constant state of awareness can be hard to shake even when the unpredictability of the situation is removed and soldiers are sent home.  Consequently, the families that these soldiers return to find that their loved ones are altered, and in some cases, these situations can become very volatile and lead to unintended consequences, such as families subject to verbal abuse and more.
"'I just didn't consider those people human.  I never saw a Vietnamese before in my life, and I hated them.  We didn't even call them Vietnamese back then.  Called them Charlies, dinks, and gooks.  That's all I knew.  They taught us that.  I was trained not to see them as human.  The government can say whatever they want, but they trained us that way.  It hurt me more to see a dog or cat dead than them Vietnamese.  The government likes young boys who ain't got no sense.  Easier to train, easier to brainwash that way.'"  (page 59 ARC)
The relationship between father and daughter always has been fragile.  The tentative nature with which Christal makes her calls to her father and feels him out before she asks each question is how readers would imagine any conversation to go given the years of silence between them, but particularly given traumatic nature of her upbringing.  Thirty Days With My Father:  Finding Peace From Wartime PTSD by Christal Presley, Ph.D., is about finding yourself amidst the chaos of family life, particularly a family life full of baggage, and about forgiveness for yourself and your family.  One of the most surprising and astonishing memoirs I've read in a long while.  It will have you re-evaluating your own conceptions about your childhood and how to repair relationships that have been damaged.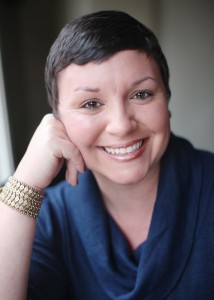 About the Author:
Christal Presley received her bachelor's degree in English and her master's degree in English Education from Virginia Tech.  She received her Ph.D in Education from Capella University. She is a former intern at Algonquin Books of Chapel Hill, and spent seven years teaching middle and high school English in Chatham and Danville, Virginia.
Her first book, Thirty Days with My Father:  Finding Peace from Wartime PTSD, will be published by Health Communications, Inc. in November 2012.
Christal grew up in Honaker, Virginia, and currently lives in Atlanta, Georgia. She is the founder of United Children of Veterans, a website that provides resources about PTSD in children of war veterans. In her spare time, you can find Christal playing with her dogs, tending to her chickens, and gardening.
***IF you would like to win a copy, leave a comment on this post about your interest by Nov. 21, 2012, at 11:59 PM EST***
This is my 80th book for the New Authors Reading Challenge in 2012.