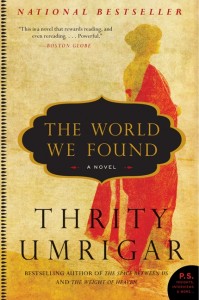 The World We Found by Thrity Umrigar focuses on four women — Laleh, Kavita, Armaiti, and Nishta — who were in college during the 1970s in India and were part of a socialist movement with their male friends Iqbal and Adish.  The students were caught in the midst of a nation's struggle to improve its government and build a new identity as corruption had plagued the elections process and religious violence against Muslims and Hindus occurred relatively frequently.  In the late 1970s, The Emergency was declared in India, which gave the government extraordinary powers to restrict civil liberties, and led to a number of arrests and violence, among other things.
Laleh, Nishta, Armaiti, and Kavita were idealists looking to create a new world, and with their combined enthusiasm and wide-eyed innocence about a world that they could create for their futures and that of India, they dove headlong into the movement they thought best poised to help them achieve their goals.  However, the realities of social movements intervened, demonstrating the brutality on both sides and those realities forced them to choose the path that would lead them into adulthood.  Looking back on their college years, some of the group is filled with regret at what was not achieved and the friends lost, while others are glad to have had their delusions shattered and the truth revealed.  Umrigar's characterizations demonstrate the ways in which poignant events in history can leave a lasting impression on idealists, forcing their perceptions to skew so much that they adopt the most radical of views or forcing them to realize that bodily and emotional harm are not endurable.  Although there is one member of the group who followed her ideals and made the tough choices, there are consequences of those hard decisions as well — the loss of friendships, family, and independence.
"Could time really alter things so much? If so, the devil that every religion taught people to fear and loathe was simply the passage of time."  (page 113 ARC)
Following thirty years of silence, the women are called upon once again to come together, but this time for a friend in America who needs them.  One of them is dying and wishes to seem them all together again, but she cannot travel and they must come to her in America.  Reuniting is never easy, especially when each of them holds guilt about not keeping in touch, secrets from the past, and prejudices born of their not-so-shared history.  The world that each of them found may not be the world that they dreamed they would create together, but it is a world in which they all live now and must learn to either accept or make moves to change for themselves and one another.
"Color.  She was obsessed with color.  There was the read of the Shiraz that Richard had opened the night before.  The burnt orange of the handcrafted cherry table in the hallway.  The glitter of a computer chip, the history of human intelligence shrunk into a capsule.  The muted gold of this leather couch she was napping on.  It made you greedy, intoxicated, made you want to open your mouth and bite into the richness of the world.  It made you want to never leave it, never miss out on a day of this party, this wild carnival ride."  (page 234 ARC)
Thrity Umrigar not only shares a bit of India's history with her readers, but she shares some of the religious tensions that pervade Indian society and how it can color the perceptions of people who were once considered friends.  The World We Found is stunning, emotional, and heated in the issues it tackles from religious fanaticism to moral ambiguity and the tenuous bonds between friends and family.  The ties between Laleh, Kavita, Armaiti, and Nishta are unbreakable no matter what tore them apart after college, but the ties between Iqbal and Adish are no less strong, though they seem more complicated by the roles expected of men in their respective religions and Indian society.  Book clubs would have a great deal to discuss after reading this novel and are likely to come away from the discussion with a new perspective on religion and friendship.
About the Author:
Thrity Umrigar is the author of three other novels—The Space Between Us, If Today Be Sweet, and Bombay Time—and the memoir First Darling of the Morning. A journalist for 17 years, she is the winner of the Nieman Fellowship to Harvard University and a 2006 finalist for the PEN/Beyond Margins Award. An associate professor of English at Case Western Reserve University, Umrigar lives in Cleveland.  Please visit her Website.
Also check out my review of The Weight of Heaven.  Enter to win a copy at GoodReads before Sept. 10.