As Always, Jack by Emma Sweeney is an epistolary memoir in that letters from Sweeney's father to her mother are shared with several sections of explanation from Sweeney, herself.  After just 11 days together, Jack and her mother corresponded for a year and a half through letters as he went off to help stabilize the Pacific following WWII.  He wrote 45 letters to her mother over seven months in a oddball courtship that showcase her father's wit and humor as well as his constant devotion.
In many ways the correspondence allowed the young lovers to get to know one another more intimately without the awkward face-to-face interactions.  They learned about their religious beliefs and their thoughts on infidelity when she tells Jack of her boss' infidelity with one of the dental assistants.  Emma found her father's letters to her mother after her mother's death in the back of a drawer, but she never knew him in person as he died before she was born.
"I never told anyone of my discovery that day.  We lived in a big house, and, with twelve brothers and sisters, my things had a way of disappearing.  I put the letter and the photograph in the small cedar box I kept hidden under my bed."  (page 4)
Jack was a funny man who liked to play cards and talk to his Bebe as much as he could, begging her for photos and tales of her trips to Florida from Coronado, California.  He made jokes, he took on personas, and he laughed at himself.  He wooed her with humor and honesty, and through his devotion, he garnered her love, which she eventually confessed in a letter to him, or at least that is what Jack says in one of his letters back to her.  What's missing is her mother's side of the letters and some explanations as to what Jack is referring to on occasion, but there are notations about dates and times in the letters that clarify some of the timeline.
However, this memoir is not only about the love that endures even through space and time, but also the discovery of a daughter of her true father and mother at time when they were youthful and full of hope.  As Always, Jack by Emma Sweeney is in a way a love letter from a daughter to a father.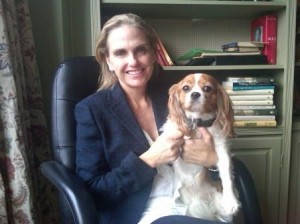 About the Author:
Emma Sweeney is the author of several gardening books as well as a literary agent based in New York.  She formed her own agency in 2006 and has had five New York Times bestsellers, including the #1 New York Times best seller, Water for Elephants by Sara Gruen.  She is a member of the Association of Authors' Representatives and the Women's Media Group, where she served as its president in 2003. She graduated from the University of California at Berkeley with a BA in English Literature.  She divides her time between New York City and Rhinebeck, New York.
If you'd like to win a copy of this book, please leave a comment on this post with an email address.  Deadline to enter is July 20, 2012; This is open GLOBALLY.
This is my 49th book for the New Authors Reading Challenge 2012.