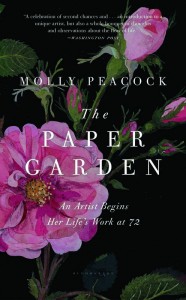 Poet Molly Peacock's The Paper Garden is not only a collage and biography of a woman, Mary Delany, who began a career as an artist late in life, but it also is partially a memoir of Peacock's own life and the nuggets of wisdom she's gained from her obsession with this floral artist and her collages or flower mosaicks.  Delany is a woman who began working with scissors and paper long before she gained recognition for her art, starting as a young girl in school.  While one of her classmates recognized her talent, life got in the way as Delany was plucked from her home and moved to her aunts and back again as English politics became tumultuous and her family backed the Pretender.
"A few of the papers she used — all of the papers in the eighteenth century were handmade — in fact were wallpapers, but mostly she painted large sheets of rag paper with watercolor, let them dry, then cut from them the hundreds of pieces she needed to reproduce — well, to re-evoke might be a better word — the flower she was portraying.  There is no reproduced hue that matches the thrill of color in nature, yet Mrs. D. went after the original kick of natural color, and she did it like a painter."  (page 7-8 ARC)
Through all of the upheaval, Delany kept to her crafts and her music, once inspired by a meeting with Handel.  Peacock's prose is intimate and conversational as she speaks of Delany like a beloved friend and peer.  She speaks of her journey to learn about Delany's life and craft like a careful historian citing her sources and engaging in reverence for her subject.  Through her delicate prose, the beauty of Delany and her work emerge gradually, like the petals of a bud opening slowly as the sun rises.
Peacock does a fantastic job comparing individual mosaicks to events in Delany's life in England and Ireland even though many of the pieces were created long after the death of her second husband and her younger sister, Anne.  She was an early mixed media artist who used wallpapers, paints, dried leaves, and other materials to create her portraits of flowers, breathing new life into even the most simple flower.
The Paper Garden by Molly Peacock is a quiet read chock full of details about Mary Delany's craft, her family, and her inspiration, but it also is full of advice, beautiful images of Delany's work, and tidbits about Peacock's motivations in her own poetry and life.  Readers will dip into this book, think and wonder about Delany's craft, but also ruminate on what this journey she embarked upon taught her and ourselves.  In almost a meditative way, the biography pulls the reader in and pushes them out to ensure the depth of the art and its meaning is thought about on a deeper level.
***Some of my favorite quotes from the book that can apply to writing***
"Great technique means that you have to abandon perfectionism.  Perfectionism either stops you cold or slows you down too much.  Yet, paradoxically, it's proficiency that allows a person to make any art at all; you must have technical skill to accomplish anything, but you also must have passion, which, in an odd way, is technique forgotten."  (page 28 ARC)

"Not to know is also sometimes the position of the poet, who depends on close observation to magnify a subject, hoping to discover an animating spirit.  There's romance in that forensic impulse . . ." (page 34 ARC)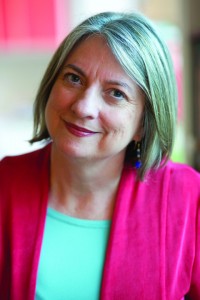 About the Author:
Molly Peacock is the award-winning author of five volumes of poetry, including The Second Blush. Her poems have appeared in the New Yorker, the Paris Review, and the Times Literary Supplement. Among her other works are How to Read a Poem . . .  and Start a Poetry Circle and a memoir, Paradise, Piece by Piece. Peacock is currently the poetry editor of the Literary Review of Canada and the general series editor of The Best Canadian Poetry in English. A transplanted New Yorker, she lives in Toronto.

Visit Molly Peacock's Website.
This is my 4th book for the 2012 Ireland Reading Challenge.