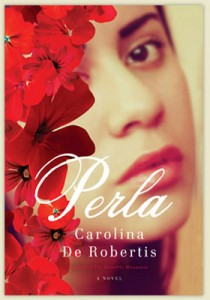 Perla by Carolina De Robertis (giveaway following the review) is captivating and intoxicating in its setting, mystery, and the psychological unraveling of the main protagonist, Perla.  She's growing into a young woman, but her cloistered existence threatens to explode until she begins to release herself in books and in her relationship with Gabriel.
The past haunts everything around her, though she does not know it at first.  She is proud of her family and her father's naval career and her mother's quirky penchant for picking up new hobbies and discarding them.  But her pride is suddenly shaken when she learns of the Disappeared, Argentinians who were silently taken from their workplaces and homes in the 1970s and 1980s by the government for allegedly being subversives.  In school she writes a short story that wins a prize and is published in the newspaper, but her story has other unintended consequences.  It opens up hidden fissures in her family, and forces her to rebel and question the father she's loved with blind devotion.
"He was uninvited moisture.  He had leaked into this house.  I had every reason to find his presence an affront, to be enraged at his invasion, or at least to eject him in calm tones.  Certainly he made me feel combustible, unsafe in my own skin.  But though I didn't know why, though the feeling shocked me, I did not want him to leave."  (page 28)
The fluidity with which De Robertis tells the tale is much like the Dali painting, "The Persistence of Memory," hung in Perla's childhood home, weaving in and out of reality and shaping a psyche that is struggling with secrets that are too devastating to hold inside.  Perla is a novel about identity and how it is created or comes into being and whether it is alive within us before we are even born.  In accordance with this look at identity, the novel examines the harsh treatment society places on new generations for the transgressions of the past.  Struggling with the truth of her father's job and how it may have contributed to the disappearance of many Argentinians is enough for Perla to deal with as a young adult, but she also must confront the sneer and the unspoken disgust in the eyes of her classmates and friends when her father's occupation is revealed.
Retreating into herself and her books, Perla finds a way to cope and becomes strong in a way that even she is unaware of, and when she meets Gabriel, her strength is tested once again.  Can she love her father and still love this man who writes articles condemning the actions of former military and government leaders who now have immunity?  Can she reconcile the two worlds of her life into one and live with herself?  And how can she explain her love for her father amidst the knowledge of what his actions before she was born did to the country and to other families?
De Robertis takes readers on a psychological journey through Perla's mind as she processes the revelations of her family life and the nation she was born into.  Legacy plays an important role and it is clear that Perla must uncover what that legacy should be as she grows into a woman and leads her own life.  The prose is so enchanting and intoxicating, hours of reading fly by as streets in Buenos Aires become crowded with footfall percussion beats and musical laughter countered with the closed off rooms of Perla's childhood home and the dark, swirling violet waves of her aunt's painting.  Water also is a significant image throughout the book as it gives life and sustains it in the womb and in the soil, but it also connects everyone and everything in the story, running underground and supplying the sustenance to the tale.
"Flowers lurked at every turn.  You could not rest your gaze without encountering a geranium, two geraniums, hundreds of geraniums, and you could not walk without the feeling that geraniums were following you close at heel, bright mobs of them, crowding the air at your back.  You could not help feeling vastly outnumbered." (page 90)
In a few sections when Perla's mother has taken up gardening as a hobby and begins overpopulating the house with geraniums, it is clear that these flowers are like the bodies of the disappeared blossoming despite the cover up and lurking around every corner, haunting those that took part.  These bodies even when the blossoms fade from lack of care, continue to haunt the house and its inhabitants, prodding Perla's family to look about them, to question, to uncover the truth beneath the well-manicured soil.
Perla by Carolina De Robertis melds the supernatural with reality in a way that it becomes a testament to all of the disappeared and the children of the disappeared who were restored and not.  It is an examination of an ugly part of Argentinian history in which women, children, and men were taken from their families and homes without warning, tortured, and released from planes above the Atlantic Ocean — erased from existence.  De Robertis does not dwell on the horrors of those times, but on the consequences of those actions and the reverberations felt for generations following the political upheaval that caused them.  She does so with aplomb and breath-taking imagery that transports readers to a South American nation ripe with beauty and dark secrets to explore what it means to have an identity and to be an individual in spite of what your family may have done in the past.  One last note, get the tissues ready!  Another for the 2012 best of list.
About the Author:
Carolina De Robertis is the author of Perla and The Invisible Mountain, which was an international bestseller translated into fifteen languages, the recipient of Italy's Rhegium Julii Prize, and a Best Book of 2009 according to the San Francisco Chronicle, O, The Oprah Magazine, and BookList. Her writings and literary translations have appeared in Zoetrope: Allstory, Granta, The Virginia Quarterly Review, and elsewhere. She is the translator of Alejandro Zambra's Bonsai, which was just made into a film, and Roberto Ampuero's internationally bestselling The Neruda Case, which will be published for the first time in English in July 2012. De Robertis has been awarded a 2012 fellowship from the National Endowment for the Arts.
De Robertis grew up in a Uruguayan family that immigrated to England, Switzerland, and California. Prior to completing her first book, she worked in women's rights organizations for ten years, on issues ranging from rape to immigration. She lives in Oakland, California, where she is currently elbow-deep in writing her third novel, which explores migration, sexual frontiers, and the tango's Old Guard in early twentieth century South America.  Connect with her on Facebook, Twitter, and through her Website.
This is my 37th book for the 2012 New Authors Challenge.
To enter for 1 copy of Perla by Carolina De Robertis (US/Canada), leave a comment about what you'd like to learn about the disappeared of Argentina.
Deadline is May 17, 2012, at 11:59PM EST