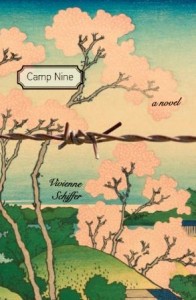 Camp Nine by Vivienne Schiffer is told from the point of view of Cecilia "Chess" Morton as she looks back on her time in Desha County, Arkansas, during the late 1940s when Camp Nine was erected near her childhood home.  As a child, she grew up without a father, but she had a mother who doted on her, though she often butts heads with Chess' grandfather, who owned half, if not more, of the town, Rook.  Her grandfather controlled much of Chess' land inheritance and sold a good portion of land, which he deemed useless, to the government for Camp Nine, which he was told would hold German prisoners of war captured during WWII, which was in full swing at the time the story takes place.
Chess is a curious child, but often her inquisitiveness gets shut down by the adults around her who dismiss her desire to know about her family, particularly the feud between her mother and Mr. Ryfle, who tends the grandfather's land and often makes empty promises about helping Chess' mother plant her land.  There is a great deal of mystery in the early stages of the novel, including her mother's past in California and why Camp Nine is being used to house Japanese Americans.  Chess also laments the unspoken code of behavior expected of Blacks, like Ruby Jean who helped raise Chess' mother.
"'That river over there is the mightiest river in the world.  It wouldn't do for there to be just any dirt around here.  The dirt here must have its own strong personality.  It won't back down to the river.  It won't back down to men.  You have to understand it and work with it.  Not against it.'"  (Page 121)
Schiffer crafts a narrative that stands apart from other accounts of WWII as it seeks to inject emotion into a situation that many Americans were removed from by hundreds of miles or more.  WWII was fought on distant shores, but its effects were devastating to Americans who soon became objects of suspicion.  However, this story is not just about the internment of Japanese Americans, but of the impact their internment had on the small towns in which their camps were built — kicking up racism and exacerbating classism.  In many ways, Schiffer has developed the setting into an additional character given that its bisected into two halves by the railroad tracks, with the enemy on one side and the townspeople on the other.
Chess' mother is more progressive than other residents of Rook, but her ideas and actions have farther reaching consequences than she expects.  Schiffer's characters are engaging and real, and set against the backdrop of this tumultuous time, a young girl is growing into adulthood and realizing that the world is vastly more complicated than she expected.  Camp Nine is captivating and raises questions about perception:  What we think of ourselves when faced with family secrets?  How we'd react in the face of injustice?
I'd consider this similar to Tallgrass by Sandra Dallas.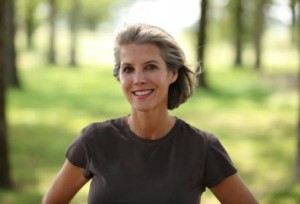 About the Author:
Vivienne Schiffer grew up in the Arkansas Delta town of Rohwer, site of the Rohwer Relocation Center, on which Camp Nine is based. She is an attorney and has practiced law for twenty-eight years in Houston, where she lives with her husband Paul and their family. Schiffer is currently at work on her second novel.
To visit the other stops on the TLC Book Tour, please click the icon at the right.
This is my 68th book for the 2011 New Authors Reading Challenge.