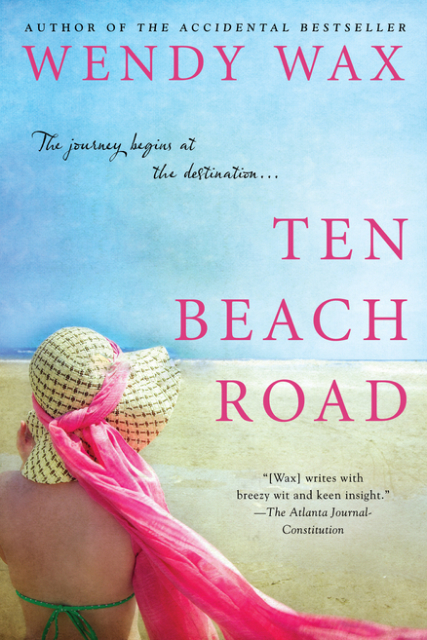 Wendy Wax has an excellent beach read with substance in Ten Beach Road for those of you looking for an end of summer winner.  Ripped from the headlines, these three women find that their only remaining asset is a rundown beach house (Bella Flora) in Florida after Malcolm Dyer — aka Bernie Madoff — stole their life savings.  Madeline's life has been flipped upside down when she realizes her investment advising husband not only lost his clients' money in a giant Ponzi scheme perpetrated by Dyer, but also that of his family.  Meanwhile, Avery has discovered that her father's estate was similarly lost just as her stint as a co-host of Hammer and Nail on HGTV as her ex-husband edges her out with his elbow.  Nicole's situation is a bit different because she had a personal connection to Dyer and her trust was more born of that loyalty than a financial desire, which makes her financial crash all the more crushing.
"'Yes, it's a fine old home,' the Realtor said as if their surprise had been of joy.  'And as you'll see a large portion of it has been renovated.  It just needs a little tender loving care.'

'More like hospitalization,' Nicole said.  'Or a team of paramedics.'" (page 56)
Add to the mix, a former childhood male friend, Chase, who had the perfect family life that Avery wanted and an FBI agent, Giraldi, stalking Nicole and looking for Dyer, and you've got a bit of mystery and sexual tension.  Wax has a down-to-earth sense of humor that livens up the playful interactions of three strangers, who soon become friends offering advice and support as they deal with family drama.  Her characters are varied and out to prove themselves to one another, their families, and everyone else, demonstrating their strengths and hiding their weaknesses as best they can.  Avery is the degreed architect portrayed on television as an airhead; Nicole is the bombshell who makes her living pairing up the rich and famous; and Madeline is the trunk of her family tree, the one that holds it all together just as the hurricane is set to rip everything apart.
"The army had spread out to attack different sections of the garden.  John Franklin sat on a camp chair that had been placed near the fountain, a smile on his face as he watched his wife command her battalion.

'Mrs. Franklin wanted to get started before it got too hot,' Avery said.  'I don't think a single one of them is under seventy-five.  They'll fill in with some new plantings after the house has been pressure washed and painted.'

Nicole moved down the hall to peer out the rear windows above the loggia; that was the one advantage in being last in line — she didn't need to hold on to her spot.  Only her bladder.  'Good God, that woman is climbing up that tree.  I think she's got a . . . '

The whir of an electric saw drifted p to them followed by the crash of a limb landing on concrete."  (page 237)
What makes this novel more than women's fiction is the mystery of where Malcolm Dyer is and how tragedy can either pull families apart or bring them together.  Readers searching for a summer read to close out their holiday season should seriously consider Wendy Wax's Ten Beach Road for its tropical locale — Florida — its hot men — Chase and Giraldi — and the triumph of its female leads as they find their inner strength and pursue their dreams of redemption.
This is my 52nd book for the 2011 New Authors Reading Challenge.