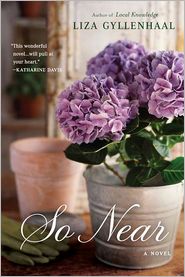 Today's guest is Liza Gyllenhaal, author of So Near, and she's going to share with us her writing space.
But first, let's take a look at her book.  According to Amazon.com's synopsis, "In the aftermath of a devastating loss, Cal and Jenny Horigan's marriage is unraveling.  Both are plagued by guilt, unable to seek comfort from one another.  Burdened by remorse, they begin to lose sight of the love that once anchored them-together with their sense of right and wrong.  As the Horigans try different ways to deal with their pain, a new acquaintance seems to offer the support they desperately need-though at times they are unsure whether his guidance is leading them back to each other or further apart."
Look at that cover, those big flowers are just so eye-catching and remind me of spring and renewal.  Let's hope the same renewal can happen for Gyllenhaal's characters, which you can find out if you win the giveaway. 
For some reviews of So Near, please check out Life in the Thumb and 5 Minutes for Books.
Without further ado, please welcome Liza Gyllenhaal:
During the years I worked in advertising in New York City, I would try to fit in an hour or two of writing every morning in my cramped apartment. I used to dream of one day having my own writing studio. If Henry James thought "summer afternoon" were the two most beautiful words in the English language, I began to feel that "writing studio" took a close second. I imagined it in the woods somewhere with a fireplace or wood-burning stove — rustic and musty and so quiet you could hear the mice scrabbling around in the walls.

Fifteen years ago, I was able to sell my advertising agency and buy my dream — a place in the country — or, more specifically, the beautiful Berkshire Hills of Western Massachusetts. It included a small farmhouse and an old horse stable which became my "writing studio." It still has the old iron stall feeders and leather harnesses on the walls. It remains permeated by a wonderful smell of animal and old hay. It's where I wrote most of my first novel Local Knowledge and my just published new novel called So Near — both set in the Berkshire area.

I wake up early and reread and rewrite on my laptop in the house, but in the afternoon I go out to the studio, bolt the door, and start the hard work of writing the next new word, sentence, paragraph, chapter. In the winter I have a fire going in the Jotul stove, in the summer I have all the windows open and can hear the seasonal brook and birdsong. This summer, I watched a family of wild turkeys — 17 in all — parading up and down in the old paddock. Other sightings: woodchuck, coyote, fox, and early last spring, when the trees were just greening out, a big black bear. It was a breathtaking moment when this wall of darkness lumbered right past me — so close that, if the window had been open, I could have reached out and run my hand through the bear's ink-black fur.
Thanks so much for sharing your writing space with us, Liza.
Sounds like a place I'd love to visit just for some down time and relaxation, though I do more writing in public places where there are lots of people to watch!
About the Author:
She was raised in a small town in Pennsylvania which, at the time she was growing up, was fairly rural and very lovely—much like the area of the Berkshire Hills in Massachusetts where she now live part of the time with her husband.
She studied poetry at University of Iowa Writing Workshop before moving to New York City and began a career in publishing and advertising.  She tried to continue writing poetry, but gradually moved to romance and other genres before her first novel.
In addition to writing, she works on behalf of various non-profits in New York City and the Berkshires. She also is the past chairperson of The Academy of American Poets and currently serves on its executive committee. (– excellent news to me since I just love that organization, am a card-carrying member, and blog about it all the time — funny how small the world is sometimes).
Please follow her on Twitter and Facebook, and check out her blog.
Now for the giveaway.  I have 2 copies So Near for US/Canadian readers.
1.  To Enter, leave a comment about where you do your blogging or reading and why.
2.  Facebook, Tweet, or blog about the giveaway for additional entries. (for up to 3 other entries).
3.  Follow this blog for another 2 entries. If you already follow, let me know.
Deadline for the giveaway is Sept. 30, 2011, at 11:59PM EST.