Building community connections among book bloggers takes time, no matter if you are a blogger whose been on the Internet for one minute or three years.  From commenting on other blogs to participating in memes or in reading challenges, book blogging is time consuming, exhausting, and daunting, especially when you first start out.
Imagine being a reader, writer, and lover of poetry and wondering where to find all the poetry bloggers? That can be difficult, just as its difficult finding readers in the "real world" who read poetry.
I would love to provide other poetry lovers with a space they can use to share their poetry recommendations, reviews, and questions.  Wouldn't that be fun?  I've met a few wonderful readers of poetry, but there are certainly more out there.
So if anyone has some tips they'd like to share to bring this part of the community closer together, feel free to leave it in the comments.  I'm all ears.
Beyond finding your own like-minded readers, its also good to participate in community events like BBAW and the Indie Lit Awards.  The Indie Lit Awards are particularly important because readers and book bloggers are gaining a voice, and in an effort to make that voice more powerful, the awards will be given to those books that WE feel are worthy of recognition.
I'm chairing the Poetry committee this year, and love getting the word out about awesome poetry books.  We're looking for some great 2011 nominations, and hope that you'll stop by between now and the end of the year to nominate your favorite poetry books published this year.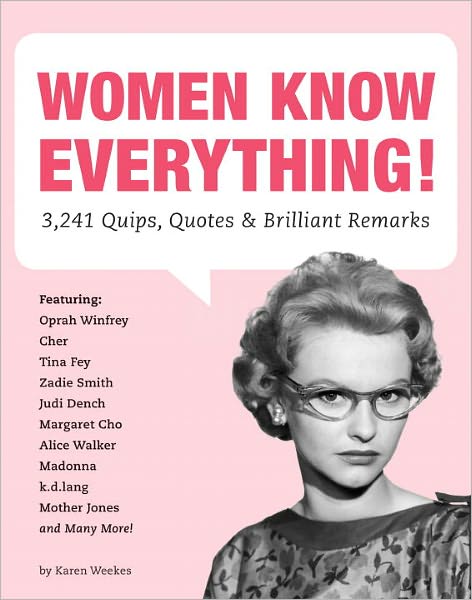 Now, for today's giveaway.  I have 1 copy of Women Know Everything! by Karen Weekes, which I received from Quirk Books and want to pass along to someone else to enjoy. 
You must be a blogger to enter and leave your blog link in the comments.  Deadline is Sept. 16, 2011, at 11:59PM EST and is open internationally.