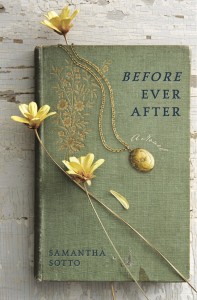 "Eggs and engagements.  Though slightly odd, they were a harmless pairing on most days, even with a greasy pile of bacon on the side.  But today was not like most days, because in less than an hour, they would make Shelley Gallus a twenty-six-year-old widow" (page 3 of ARC)
Before Ever After by Samantha Sotto is a debut novel that seemingly asks readers to suspend disbelief as Shelley Gallus discovers that her deceased husband, Max, may not have died three years ago and that he may in fact not ever age.  Oh, and he has a grandson, Paolo, from Italy who is now about 30 years old.  However, Sotto weaves her story with such beautiful prose that readers are immediately captivated and drawn into Shelley's grief and her shock.  There is no conscious need to suspend disbelief, and readers will not even notice that they are doing it.
"Shelley's ability to go through the motions wasn't surprising considering that she had been schooled by the best. Her mom had never quite gotten over the death of her own husband, and Shelley grew up watching her paint on the brightest smile with a berry shade of Revlon lipstick. There had been days when her happiness had seemed so real, so genuine, that Shelley had almost believed it." (Page 7 of ARC)
Death can leave a terrible emptiness in someone, especially when the person who dies is so ingrained and integral to their lives.  Sotto's novel is more than a look a grief or the secrets spouses keep from one another; it is a journey through history that takes Shelley and Paolo through several countries and sheds light on Max's past.  The narration shifts from present to immediate past (about five years ago when Max and Shelley first meet) to the distant past as Max recounts history in France, Austria, Slovenia, and other places.
In a way, Sotto's prose is like traveling back in time, and while the main characters of Shelley, Max, and Paolo do not figure in those historical tales, readers never forget them or get confused.  The transitions between each time frame are seamless and almost fairytale like.  Shelley blossoms in this story from a young woman running away from the death of her parents (one literal and one figurative) only to assume a lifeless existence in London in advertising.  Her one shining moment is taking a trip through Europe on a whim — where of course she meets Max who teachers her to overcome her fears and take a leap of faith.
Before Ever After by Samantha Sotto bends time, and readers will stand on the precipice of each tale holding their breath as more of Max is revealed.  Tortured souls, romance, travel, mystery, and more are wrapped in between these pages.  Sotto has a good grasp of time and its hold on us, how we think about the past, hover over it with a magnifying glass, and torture ourselves with our longings and past errors.  A strong debut from a compelling mind that captures readers' imaginations from page one.  A treasure to unearth in the waning days of summer that very well could be one of the best reads of the year.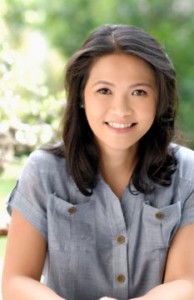 About the Author:
SAMANTHA SOTTO fell in love with Europe's cobbled streets and damp castles when she moved to the Netherlands as a teenager. Since then, she has spent nights huddled next to her backpack on a beach in Greece, honeymooned in Paris, and attended business meetings in Dusseldorf in the pleasant company of a corporate credit card. Before Ever After was inspired by her experiences living, studying, and traveling in Europe. Samantha lives in the Philippines with her family. This is her first novel.
For more info on Samantha and Before Ever After, check out her website, her blog, her Facebook page, and Twitter.
For the other stops on the blog tour, check out the TLC Book Tours site.
This is my 44th book for the 2011 New Authors Reading Challenge.