We're taking a break today from the Celebrate! Indie & Small Press Month for a pre-scheduled TLC Book Tour into another world.
The Other Life by Ellen Meister chronicles the life of Quinn Braverman, a young married woman with one son and a caring husband, Lewis.  The suicide of her artist mother haunts her on a daily basis, but to cope, she enters into another life through a portal in her basement.  Her life with Eugene is without children and marriage, but is less mundane and best of all her mother is still alive.  Meister mixes a modern story line about family, suicide, and relationships with science fiction elements as Quinn travels through portals into parallel lives.
"But the important part of the secret — the part that terrified and thrilled her — was that she knew it was possible to cross from one life to the other.  There were portals."  (page 5 of ARC)
Quinn's life with Lewis is turned upside down when they learn that their unborn daughter's life will not be as perfect as they imagined.  Although she's always known that she could jump between her parallel lives, she has promised herself that she would not do it.  A promise that she cannot keep, and a promise that is quickly broken time and time again as she struggles to deal with her high-risk pregnancy, her inability to seek comfort from her mother, and the overwhelming desire to simply escape.
"She closed her hand into a fist and continued pushing.  The fissure became a hole, and the harder she pressed, the deeper it became, until her hand had disappeared up to her elbow.  She stuck her other hand inside and pressed her palms together.  Quinn closed her eyes and sensed Eugene's energy, feeling as if the scent of his aftershave were lingering around her nostrils."  (page 47 of ARC)
Readers who have read Linda Gray Sexton's memoir about the legacy of suicide Half in Love (click for my review), will notice Quinn has a similar love-hate relationship with her mother and the legacy of suicide.  Her mother, Nan, has a similar artistic and impassioned charisma that Linda's mother, Anne Sexton, had.  It is this combination that draws in the reader and the main character into Nan's world of painting and deconstruction of her family in visual form.  Passages pepper the book with insight into Nan's approach to her family and her work as an artist, but this pull doesn't stop there.
"Her mother's pull was just too strong for Quinn to float away and feel as if she were experiencing the shopping trip as an outsider looking in."  (page 95 of ARC)
Drawn to her mother and a life where her presence is reassuring, Quinn struggles even more with her present life, and her brother's inherited bipolar disorder only exacerbate her need for stability, which she believes can only be found in another life.  Meister does an excellent job of creating a sympathetic, mess of a character in Quinn and successfully weaves in the use of portals to demonstrate her anxiety.
Quinn is a mother wrought with anxiety, loneliness, and a forceful need to care for everyone in her life.  She's constantly running from one crisis to another with her sword blazing, and while readers can feel for her and want her world to be right again, she can be frustrating as she jumps through portals to escape the hard decisions in her other life.  Overall, Meister's writing is engaging, suspenseful, and easy to follow even as readers travel with Quinn between her two lives.  Readers hope that she will find the peace she is looking for and the love that she deserves, while at the same time confronting her past demons and moving into the future as a more confident woman and mother.  The Other Life by Ellen Meister would make an excellent book club selection.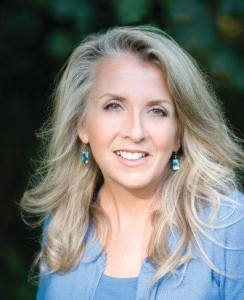 About the Author:
Ellen Meister lives on Long Island with her husband and three children.
You can find out more about Ellen at her website, and you can also follow her blog and on Twitter.
Please check out the rest of the stops on the tour.
This is my 8th book for the 2011 New Authors Reading Challenge.