Kaleidoscope:  An Asian Journey of Colors by Sweta Srivastava Vikram, who also wrote Because All Is Not Lost (check out my review), is a departure from her previous collection that deals primarily with grief.  Kaleidoscope focuses on colors and their relationship to Hindu women from birth to death including how red is worn as a bride, etc.
In this slim chapbook, Vikram tackles larger philosophical and cultural issues attached to a variety of colors prevalent in Hindu society.  She sketches out poetic memories and weaves in colors that demonstrate the emotional journey or right of passage in the moment described.
From "Innocence Comes in Pink" (page 3)

I am six today, and my limbs feel all grown up.
My tonsils are ready to be evicted from their home.
. . .
The color of my soft lungs untainted
by worldly pleasures resonates
with the wardrobe of my best friend, Barbie
and the hope of my favorite animal, Babe the pig.
Many of these poems are very vivid and pull readers into the moment.  Each line, each color, and each description is tied to a deeper familial history or tradition.  Vikram provides an in-depth examination of Hindu culture in a way that is easy to grasp and exposes the similarities between all cultures.  Further into the collection, there is a bit of defiance in her words as the color beige takes over in old age and she fights to remain red, youthful.  Overall, Kaleidoscope:  An Asian Journey of Colors is an even stronger chapbook poetry collection that Because All Is Not Lost because it deals more than with just emotion and healing.  Sweta Srivastava Vikram is a gifted poet, who has a work of fiction due out this year which I'm looking forward to, and she clearly is eager to highlight the differences in culture and the similarities between cultures at the same time — a fine line that she walks well.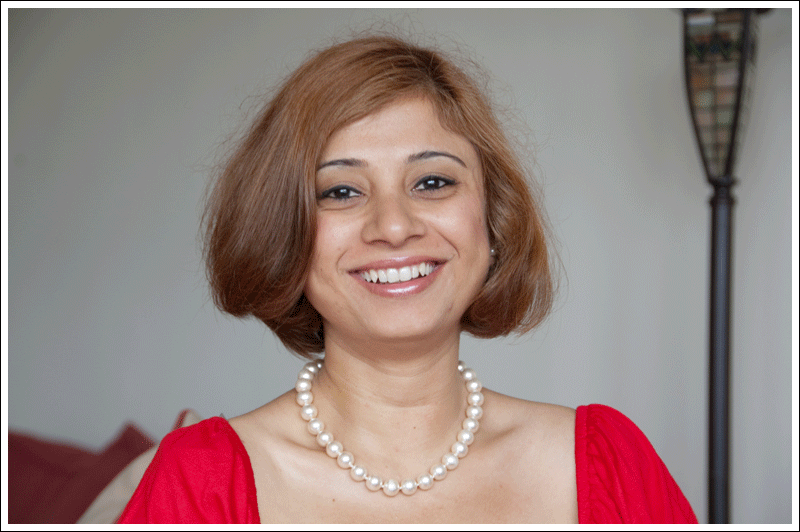 About the Author:
Sweta Srivastava Vikram is an author, poet, writer, and blogger. Born in India, Sweta spent her formative years between the steel city of Rourkela, the blue waters of North Africa, and the green hills of Mussoorie before arriving in bustling New York. Growing up between three continents, six cities, and five schools, what remained constant in Sweta's life was her relationship with words.
Please check out her interview on Page Readers.  Also, if you missed an earlier Virtual Poetry Circle in which I featured a poem from this collection, you should join the discussion.
This is my 1st book for the South Asian Reading Challenge.
This is also my 1st book for the 2011 Fearless Poetry Exploration Reading Challenge.