Linda Gray Sexton, an author of memoir and fiction, tackles the issues of depression, suicide, and family legacies in her latest memoir, Half in Love: Surviving the Legacy of Suicide.  In case you haven't deduced on your own who her famous mother is, it is Anne Sexton one of the greatest American confessional poets, who successfully committed suicide in October 1974 after battling depression for years by locking herself in the garage and dying from carbon monoxide poisoning.
"The other families in our neighborhood looked nothing like my own family.  My father did not run the family, nor did my mother.  It was my mother's illness that had seized control.  My adulation of her was not tempered by the fact that she was mentally ill.  We never used the word 'crazy' — though when the ambulance arrived in the driveway to take her away, the neighborhood children whispered that Mrs. Sexton was nuts again."  (page 59)
Half in Love is far from an easy read as Linda details not only her mother's struggles with depression and suicide, but also the violent and sometimes inappropriate relationships within the family.  The legacy of suicide is clear as Linda discusses her college years, her marriage, and the birth of her children.  The "rabbit hole" is often used to describe the downward spiral Linda and her mother descend into without necessarily being triggered by a specific event.  Some of the details about institutionalization, attempts at suicide are detailed and will make readers turn away from the page, but they are necessary to convey the depth at which these women fell away from the real world into the darkness that obscured their reasons for hope.
"Unconsciously, my mother had bequeathed to me two entirely unique legacies, and they were inextricably and mysteriously entwined:  the compulsion to create with words, as well as the compulsion to stare down into the abyss of suicide.  Both compulsions have been with me for as long as I can remember."  (page 23)
Despite a carefully outlined plan to avoid her mother's fate, Linda finds that she has unwittingly stepped on the same path to suicide and also has become a confessional fiction author rather than confessional poet.  When Linda becomes a mother herself and realizes just how much she inherited from her mother in terms of mental illness, she becomes concerned and wonders how much she should tell her sons about the family legacy, while her husband wishes to shield them from "prophecies" that may or may not come true.
Half in Love is about the struggle with depression and suicide, but it also is about falling "half in love" with the idea of a famous poet and her legacy in spite of the rational reasons to distance oneself from that dangerous family legacy and live a "normal" life.   Readers will be absorbed in the author's struggles and the struggles of her mother, but in spite of these struggles there is something to "love" about these women.  In a way larger parallels between a young Linda and the greater society can be drawn about falling in love with the darker sides of life that enabled her mother, Anne Sexton, to become one of the most famous poets of her time.  But this is not just Anne's story, but a story of a family continuously torn apart, repaired, and fragmented — possibly irreparably.
***Reading this memoir prompted me to highlight one of Anne Sexton's poems during the Virtual Poetry Circle last week.  Please feel free to join the continued discussion.***
About the Author: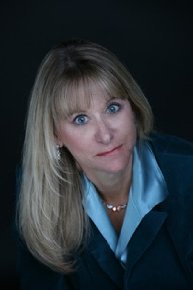 Linda Gray Sexton was born in Newton, Massachusetts in 1953 and graduated from Harvard University in 1975. She is the daughter of the Pulitzer Prize winning poet, Anne Sexton, and has edited several books of her mother's poetry and a book of her mother's letters, as well as writing a memoir about her life with her mother, "Searching for Mercy Street: My Journey Back To My Mother, Anne Sexton." "Rituals," "Mirror Images," "Points of Light," and "Private Acts" are her four published and widely read novels. "Points of Light" was made into a Hallmark Hall of Fame Special for television.
Check out the other stops on The TLC Book Tour.
This is my 2nd book for the 2011 New Authors Reading Challenge.