October 21, 2014 1 Comment
Earlier this year, I had the pleasure of reading the latest work from Emma Eden Ramos, Still, At Your Door, which I reviewed in February.  It is not only a story about a young girl, Sabrina Gibbons, who wants a normal family life, but also a young lady looking for herself among the wreckage of her family and in the world around her.  A Streetcar Named Desire plays a strong role in the story, but it is by no means a retelling — it becomes a way for the author to parallel Tennessee Williams' work. Bri's mother is like Blanche the main character in the play, clinging to her youth as much as she can, even as it slips away.  But this is Bri's story.
I really enjoyed this ambitious work that explores not only coming of age in a broken home, but also bipolar disorder and its effect on the family.  For more on Ramos' psychology angle and thoughts on her writing, check out my interview with her.
Here's the synopsis of the novel:
Sabrina "Bri" Gibbons has only a few short minutes to pack her things and help her sisters pack theirs before running with their mother to the bus that will whisk them away from Butler, Pennsylvania, an abusive relationship, and a secret that none of them wish to acknowledge. She was not prepared, though, for her mother to drop them on the streets of New York with the promise that she would be right back. Haunted by the sight of her mother running back to the cab, Bri, with Missy and Grace in tow, settles in with their grandparents. Thoughts of her present and her future collide with memories of her past, her dead father, and her mother's bizarre episodes. She watches her sisters struggle with school and acceptance, all the while knowing the lack of any sense of security will make it impossible for them to carry on as 'normal' children. She finally lets her guard down enough to allow someone else in and sees a faint glimmer that her dreams might be attainable. Disaster strikes again, this time targeting her sister. Is it possible for Bri to find that balance between her dreams and her family's realities?
She's received great reviews from the likes of the San Francisco Book Review.  "While there at first seems to be a deficiency in description and character and world development, surprisingly, Still At Your Door becomes one of those unique stories where less is more. This quick read flows smoothly from beginning to end, and is filled with glimpses of how life ought to be, but how for three young girls it greatly missed the mark. It provides readers with a deeper understanding of the physical and emotional effects of mental illness on the family as a whole and the need for broader awareness to allow children to maintain their childhood in innocence. This beautifully written book is one I would recommend for readers of any age," Kim Heimbuch said in the review.

Her publisher also has nominated Emma Eden Ramos for The Next Generation Indie Award and A NIEA Award.
For those of you who are in the United States, I'm offering 1 copy of Still, At Your Door by Emma Eden Ramos to a lucky reader who comments before Oct. 31, 2014. 
October 20, 2014 4 Comments
Source: William Morrow and TLC Book Tours
Paperback, 336 pages
On Amazon and on Kobo
Land of Dreams by Kate Kerrigan, the third book in the Ellis Island trilogy (Ellis Island and City of Hope), could be read alone as Kerrigan provides enough background on Ellie Hogan that new readers could pick this one up without a problem, but readers may find a richer reading experience when they read all three.
(If you haven't read the other 2 books, this review could contain spoilers for those books)
Ellie Hogan has come into her own as a wife, mother, and artist, only to have her life disrupted when her oldest adopted son Leo runs away from his upstate New York boarding school.  Ellie is a first generation Irish immigrant who has lost a lot to the Irish war against the English, but she's also gained a sense of purpose in America, learning to make her own way.  Her artist's life is very isolated on Fire Island, and with her son, Tom, she has a quiet existence among the people who have become like family.  But when her son, Leo, runs away to Hollywood, she has to make a choice — send the police or go after him herself.  Making her away across the United States, Ellie tries to keep her fears at bay while being thankful that her youngest son is in the care of good friends while she makes the journey.  Along the way, she meets Stan, a composer who escaped from Poland before the Nazis took over.
"Yet surely the desire for fame was not so different from the desire to be loved, and everyone in the world wants to be loved.  The desire for fame and love is born from a deep human need to be seen, and I felt as if I could really see this young woman now, beyond the mules and the dye and her ridiculous ideas and affectations.  So I started to draw her."  (pg. 122)
Ellie may have been a quintessential landscape painter with her own signature for delivering paintings to her clients, but in Los Angeles, she's a mother in search of a star-struck son.  She must decide whether at 16 he should pursue his dream or return to New York and school, and it is a tough decision for any mother with a son who has finally found something to be passionate about.  Ellie's experiences in a restrictive Catholic home in Ireland inform her ultimate decisions, as she decides that she would rather be more open-minded than her parents had been with her.  Kerrigan easily tackles the ideas of nature versus nurture in Ellie's parenting, touches upon the seedier side of Hollywood — though not as much as some readers would expect — and incorporates significant details about World War II and the internment of Japanese-Americans.
Land of Dreams by Kate Kerrigan is a satisfying conclusion to this trilogy about seeking out a home and family, but also stability.  But it is also about the realization of dreams across generations and having the gumption to take the leap.  While everything is not as it appears in Hollywood, the facades of the city also mirror those of Ellie's own adopted country — a land of freedom and opportunity that still oppresses certain minorities and immigrants seeking a better life.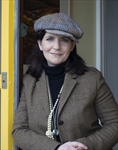 About the Author:
Kate Kerrigan is the author of three previous novels. She lives in Ireland with her husband and their two sons.  Visit Kate's website at www.katekerrigan.ie and follow her on Twitter: @katekerrigan.
35th book for 2014 Historical Fiction Reading Challenge.
29th book (WWII) for the 2014 War Challenge With a Twist.
4th Book for the Ireland Reading Challenge 2014.
October 19, 2014 14 Comments
Mailbox Monday, created by Marcia at To Be Continued, formerly The Printed Page, has a permanent home at its own blog.
To check out what everyone has received over the last week, visit the blog and check out the links.  Leave yours too.
Also, each week, Leslie, Vicki, and I will share the Books that Caught Our Eye from everyone's weekly links.
Here's what I received:
1.  The Wing Wing Brothers: Geometry Palooza! by Ethan Long for review from Holiday House.
Your favorite five wacky birds are at it again. This time teaching readers the building blocks of geometry, while trying not to topple over themselves!
2.  Plants Feed Me by Lizzy Rockwell for review from Holiday House.
A cheerful cast of multicultural kids demonstrates how plants are instrumental parts of what we eat in the latest from Rockwell (The Busy Body Book, 2004). Detailed colored-pencil-and-gouache illustrations show plants and the parts we harvest for food—leaves from lettuce and chard plants; roots and tubers from carrot and potato plants; fruits from apple trees, tomato plants, blueberry bushes, and pumpkin vines; seeds from wheat grass and walnut trees; and all kinds of beans from pods of many shapes. Full-page spreads depict children in the garden and on a farm harvesting fruits and vegetables, and helpful cross sections and close-ups reveal plants above and below the ground, with each part clearly labeled and a recognizable image of what that plant looks like once it gets to a grocery store. It's easy to forget where everyday food comes from, but this gentle, colorful picture book explains, simply and accurately, how food gets from the garden and farm onto dining-room tables. Preschool-Kindergarten. –Sarah Hunter and BookList
3.  Mice Mischief: Math Facts in Action by Caroline Stills for review from Holiday House.
Ten colorful and acrobatic circus mice demonstrate how the numbers from 1-9 can add up to 10, matching the kindergarten Common Core State Standards for operations and algebraic thinking.
4. Jane Austen Cover to Cover: 200 Years of Classic Book Covers by Margaret C. Sullivan for review from Quirk.

Jane Austen's six novels are true classics, still immensely popular some 200 years after their first publication. But although the celebrated stories never change, the covers are always different. Jane Austen Cover to Cover compiles two centuries of design, from elegant Victorian hardcovers and the famed 1894 "Peacock" edition to 1950s pulp, movie tie-in editions, graphic novels, foreign-language translations, and many, many others. Filled with beautiful artwork and insightful commentary, this fascinating and visually intriguing collection is a must for Janeites, design geeks, and book lovers of every stripe.
5.  The Company of Strangers by Robert Wilson for 50 cents from the library sale.
The stifling summer streets of Lisbon are teeming with spies and informers when Andrea Aspinall, an English mathematician turned spy, disappears under a new identity. Military attaché Karl Voss, experienced in the illusions of intrigue, arrives in Lisbon under the German Legation, though he is secretly working against the Nazis so that atomic and rocket technology do not find their way into Hitler's hands.

In the lethal tranquility of a corrupted paradise Andrea and Karl meet and attempt to find love. Tragically, a night of violence leaves Andrea the keeper of a secret that triggers a lifelong addiction to the clandestine world. From Portugal to England and finally Cold War Berlin, she gradually discovers that the deepest secrets aren't held by governments, but by those closest to you.
What did you receive?
October 19, 2014 4 Comments
Many thanks and good wishes to Diane of FictionZeal for nominating me for the Sisterhood of the Bloggers World Award! Here's the post she did. Diane's blog is new to me, but from the posts I've seen, she likes some great historical crime fiction and fantasy-like novels. Here are the rules: Thank the blogger that nominated […]