October 21, 2016 4 Comments
Source: QuartoKnows
Hardcover, 48 pgs.
I am an Amazon Affiliate
Poetry for Kids: Emily Dickinson edited by Susan Snively, PhD, and illustrated by Christine Davenier is ideally for ages 8-13, and the illustrations are gorgeous and can be appreciated by readers of any age. Davenier uses a watercolor technique to illustrate the 35 poems in this volume, which Snively curated. Some, if not all, of the poems included have been modified from the original poem. In some cases, the em dash is removed and replaced with other punctuation, and in other cases, words that she capitalized are not in these versions. Dickinson readers will notice these changes very easily, and if these changes bother you in a kids book, this is not the volume for you.
I loved how the poems were presented here, and although this is a little old for my daughter, she listened as I read. The terms she would not be familiar with are defined on the pages where the poems appear. She may not have understood everything I read, but the lines and words Dickinson used — especially as nature is front in center — are things that even younger kids can relate to. She really loved the colorful pictures. They're wonderful.
Poetry for Kids: Emily Dickinson edited by Susan Snively, PhD, and illustrated by Christine Davenier breaks down the poems by season and in the back, there is a list of what Emily Dickinson might have been thinking at the time the poem was written. For the age group this book is curated for, it is well presented and could be a stepping stone for deeper discussion of Dickinson, her unconventional life and writing, and what she was "thinking" as she wrote.
RATING: Quatrain
About the Poet:
Emily Dickinson was an American poet who, despite the fact that less than a dozen of her nearly eighteen hundred poems were published during her lifetime, is widely considered one of the most original and influential poets of the 19th century.
About the Editor:
Susan Snively grew up in Louisville, Kentucky, and now lives in New England where she is a guide, discussion leader, and film script writer for the Emily Dickinson Museum. She was the founder and first director of the Writing Center at Amherst College, where she worked from 1981 until 2008. She taught courses in writing and autobiographies of women, and has published four collections of poems: From This Distance (1981), Voices in the House (1988), The Undertow (1998), and Skeptic Traveler (2005). View her complete bibliography. Susan Snively has received numerous Prizes and Awards for her writing, and continues to lecture and give readings.
About the Illustrator:
Christine Davenier is an author and illustrator of children's books. She has illustrated a large number of books, the authors of which include Jack Prelutsky, Julie Andrews and her daughter Emma Walton Hamilton, Madeleine L'Engle and Juanita Havill, and has received critical acclaim.
October 20, 2016 8 Comments
A Book Tag Post
Thanks, Ti @Book Chatter, for tapping me for the This Or That Book Tag created by Ayunda @ Tea & Paperbacks!
Here are the Rules:
Mention the creator of the tag
Thank the person who tagged you
Tag other people & spread the love
Reading on the couch or reading in bed?  COUCH!  I have all my favorite pillows and blankets on the couch.  I used to read in bed but then I found it disrupted my sleep too much.  I get up before the sun most days for work, so I need my rest.
Main character: Male or Female?  Either.  I know I'm supposed to pick one, but I love a character with a strong voice.  As long as they have that, I don't care if they are male or female.
Sweet or salty snacks while reading? Both.  I tend to have to balance out the salty with sweet or sweet with salty.  Can't have too much of a good thing.
Trilogies or quartets? None.  I hate series.  I get sucked into them regardless.  I find the middle books too long and often just a bunch of set up for the final book.  I think a couplet is all you need.
First Person or Third person POV? I like either, but I tend toward third person more in my reading lately.
Night or morning reader? Night, unless I have a day off.  As you can probably guess, my early morning work hours interfere with morning reading.
Libraries or bookstores? Libraries.  Ours is a bustling hub of activities for my kid, a great place for quiet time in other places, and has a much larger selection of books than the bookstore.
Books that make you laugh or books that make you cry? It's hard to make me cry, so I'll say laugh.  I need that positive feeling.
Black or white book covers? None.  I love covers bursting with color.
Character driven or plot driven stories? Character.  Hands down.  Plot just seems so elementary.  We all have plot in our lives.  I want more depth.
The PEOPLE I tag are:
Have fun, ladies.
October 19, 2016 6 Comments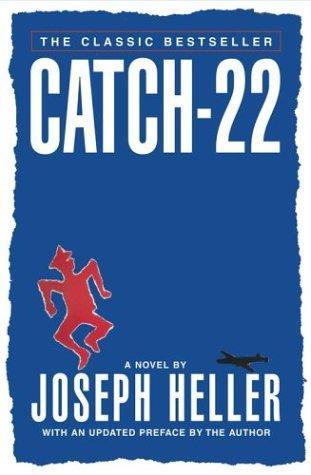 Source: Public Library
Paperback, 463 pgs.
I am an Amazon Affiliate
Catch-22 by Joseph Heller, which was our banned book selection for book club, was a re-read for me. The book was initially banned in Ohio because the language was considered indecent and considered objectionable. While there is objectionable language and graphic sexual situations, this is a book about the absurdity of war and it is a satire about World War II.
Catch-22: a dilemma or difficult circumstance from which there is no escape because of mutually conflicting or dependent conditions.
Yossarian is a bombardier who is an excellent shot, who achieves a second pass and earns a medal, but Colonel Cathcart has plans and continues to raise the number of missions his crew must fly. This bombardier and the colonel are in a silent battle, as Yossarian seeks out any number of reasons to get admitted to the hospital, or be declared insane, anything that will get him out of flying more dangerous missions. He's almost like a clown bumbling around to disguise his strategy for escape.
"Colonel Cathcart cracked his knuckles violently. Colonel Korn, a stocky, dark, flaccid man with a shapeless paunch, sat completely relaxed on one of the benches in the front row, his hands clasped comfortably over the top of his bald and swarthy head. His eyes were amused behind his glinting rimless spectacles." (pg. 148)
The shifting nature of this book mirrors the chaos of war on a smaller scale, leaving the reader in a whirlwind of activity and nonsense. Despite the horrors of war and the deaths around them, there's a levity to these characters and their interactions. Frustration with superiors and bureaucracy is typical of many war novels, but Heller carefully demonstrates the back-stabbing, the all-for-myself moves of men in power, and the utter disbelief of soldiers at the very bottom of the power structure when the rug is pulled from beneath them. As in war, readers are unlikely to form strong attachments for the characters interacting in Heller's novel — despite the incident with Snowden — making the war seem even more distant even more ridiculous.
Catch-22 by Joseph Heller is a fun ride that never disappoints. From Yossarian's struggles within the system to Milo's triumph outside the hierarchy of military power, Heller has created a novel that speaks to the overall chaos and disharmony of war, the futile attempts to make life for soldiers seem normal by the military through order and discipline, and the machinations of those with their own agendas and how they can place everyone in jeopardy.
RATING: Quatrain
About the Author:
Joseph Heller was born in Brooklyn in 1923. In 1961, he published Catch-22, which became a bestseller and, in 1970, a film. He went on to write such novels as Good as Gold, God Knows, Picture This, Closing Time (the sequel to Catch-22), and Portrait of an Artist, as an Old Man. Heller died in December 1999.
October 18, 2016 6 Comments
Source: Inkwater Press Paperback, 92 pgs. I am an Amazon Affiliate Hermit Thrush by Amy Minato reconnects us to the lives of animals and the movement of nature around us. Her poetry is infused with a raw passion and a deep sensuousness. From "Textural", "Of course a moose/relishes the ooze of mud/in the tender center/of […]