August 20, 2014 6 Comments
Source: Public Library
Hardcover, 389 pages
On Amazon and on Kobo
Once We Were Brothers by Ronald H. Balson, our August Book Club selection, is part legal thriller and part historical fiction, as Ben Solomon recognizes that one of Chicago's elite was a former Nazi SS officer Otto Piatek, the butcher of Zamosc, and his one-time brother.  Solomon's family always strove to help their neighbors whenever possible, and one day take in a German boy, Otto, as their parents face the struggles of lost jobs and opportunities.  On the cusp of Nazi expansion, Poland seems like it is protected from outside forces and immune to Nazi takeover, but suddenly, things change and the Solomons are faced with a variety of tough decisions.  In the present Ben Solomon has aged and is on a crusade to bring Piatek to justice no matter the cost.
"'Maybe for some.  Not for me.  It is why we must remain diligent and relentlessly pursue men like Piatek.  Evil is contagious.  Much like a pathogen, it must be snuffed out at the source.'" (page 139)
Balson has a great story to tell, but it's too bad that the modern-day character of Catherine Lockhart is too much of a pain, with her constant interruptions about billable hours and urging Ben to get to the point.  She's constantly bombarding Ben with questions about property and the basis for his lawsuit and always denying her interest.  While her backstory about a horrible conniving husband gives credence to her lack of confidence as a lawyer and her concern about keeping her current job, her story is pale in comparison to Ben's Holocaust story.  Moreover, there are times when Ben appears to be spouting off facts in an effort to educate the reader, coming off more as a lecture than a man who is telling his life story.  Despite these flaws, the story is engaging — even if everything that could have happened during the Holocaust happens to Ben and his family — and readers will be sucked into the past, just as Catherine is.
Once We Were Brothers by Ronald H. Balson is intriguing because of the Polish setting, and the story of Ben and his family is engaging, but the lawsuit portion is resolved very quickly and the relationship between Ben and Otto as children is only partially developed.  With that said, Balson knows his history and has created an engaging look into the past that will have readers examining the world today in a new light.  Are we beyond the evil the Nazi's engaged in or is the potential still here among our own world leaders?
About the Author:
The author, Ronald H. Balson, is a Chicago trial attorney, an educator and writer. His practice has taken him to several international venues, including villages in Poland which have inspired the novel Once We Were Brothers.
What Book Club Thought:
Most of us were displeased with the attorney character and her sob story, which had not place in the book, especially in comparison to Ben Solomon's holocaust story.  With that said, one member really enjoyed the legal maneuverings near the end of the book, though they were resolved very quickly.  While the novel was readable and went quickly, there seemed to be an abundance of bad things happening to Ben and his family, though like most of these stories there are many who die.  Otto also seemed to be "too" evil and there was little seen of his transformation, which could be because the story was told from Ben's point of view for the most part.  One member suggested that the modern day characters be cut out or that they be only at the end when Ben makes it to modern day and begins his lawsuit, while another suggested the book be split between the "brothers'" points of view.  Overall, many thought this book could have presented the story in a better way.
20th book (WWII) for the 2014 War Challenge With a Twist.
49th book for 2014 New Author Challenge.
15th book for 2014 European Reading Challenge; (Set in Poland)
25th book for 2014 Historical Fiction Reading Challenge.
August 19, 2014 2 Comments
Source: Lake Union Publishing and TLC Book Tours
Paperback, 420 pages
I am an Amazon Affiliate
Inamorata by Megan Chance is dark, mysterious, and twisted.  Odile Leon is a former courtesan turned dark muse, and if you are as talented in the arts as your ego lets you believe, she will choose you.  But the bargain could cost you your soul.  Nicholas Dale knows this too well, and he's made it his mission to stop her.  Add to the mix mysterious twins, Joseph and Sophie Hannigan, from New York.  These twins carry their own dark secrets and they intrigue not only the entire art community in Venice, but Dale and Odile.  These twins are not torn between the struggling forces of good and evil, but something darker, more singular — desired by both sides.
"That I was not always in his shadow, that there was something in the world that could belong just to me.  To truly be as special on my own terms as Joseph said I was — sometimes my yearning for it was so strong it took me by surprise."  (page 109)
There is talk of ghosts, succubi, murders, suicides, and more, but Chance weaves artistry so well into the narrative readers will get lost in the canals, wondering how it all will turn out.  There are points in the narrative that drag a little, perhaps there are too many points of view shared, which slows the pace a bit, but many readers would not want to trade any of those points of view because they could lose the full scope of the story.  These points of view enrich the story, making it fuller, and the characters themselves are dynamic and well developed.  These characters are trapped by their yearning and desire to be bigger, recognized, and made whole.
Chance has created a heavy, twisted novel about romantic Venice, and the artists who are struggling to gain recognition. Inamorata by Megan Chance is enveloping, and readers will fall under its spell as each page is turned and more is revealed.  Will these characters achieve their darkest desires, will they be beholden and enslaved by them, or will they find the solace they are seeking?  Another contender for the 2014 Best Reads list!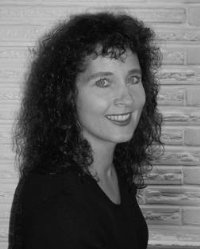 About the Author:
Megan Chance is a critically acclaimed, award-winning author of historical fiction. Her novels have been chosen for the Borders Original Voices and IndieBound's Booksense programs. A former television news photographer and graduate of Western Washington University, Chance lives in the Pacific Northwest with her husband and two daughters.  Connect on Facebook and Twitter, and visit her Website.

48th book for 2014 New Author Challenge.
August 18, 2014 20 Comments
Mailbox Monday, created by Marcia at To Be Continued, formerly The Printed Page, has a permanent home at its own blog.
To check out what everyone has received over the last week, visit the blog and check out the links.  Leave yours too.
Also, each week, Leslie, Vicki, and I will share the Books that Caught Our Eye from everyone's weekly links.
Here's what we got from the library sale for the little one:

1. Curious George and the Puppies by Margret Rey and H.A. Rey for 25 cents.
When George and the man with the yellow hat visit the animal shelter, George is delighted to discover a large litter of puppies. At first, George just wants to pet the puppy, but then he wants to hold one. George's curiosity gets the best of him, and soon puppies are everywhere.
2. ¡Vamos a bailar! Let's Dance! The Dora the Explorer Music Collection for 50 cents.
3. Skippyjon Jones in the Dog-House by Judy Schachner for 25 cents.
For another loco adventure. In his room for a time-out, Skippyjon Jones lets his imagination take him to a shack where his Chihuahua friends are yipping and yapping and hiding out from the bad Bobble-ito, who has taken over their doghouse. How El Skippito chills the Chihuahuas and banishes the Bobble-ito will make more amigos for this endearing and irresistible rascal.
4. The Mermaid's Lullaby by Kate Spohn for 50 cents.
Glitter sparkles on every page of this genuine treasure by Kate Spohn, whose work has been described as "truly extraordinary" by the Horn Book Reviewand "luminous" by Kirkus Reviews. This is a tender sea song, sung to sleepy mermaid babies by mer-mommies and mer-daddies. From the tapping of the sea urchins and the sound of bubbly voices to flashing fish and the circle of mermaid dancers, children will be lulled by words as soothing as lapping waves and captivated by art that is joyful and inviting.
5.  New Tales: Pandora and Vittorio, the Vampire by Anne Rice for 50 cents.

In Pandora, fledgling vampire David Talbot chronicles the history of Pandora, a two-thousand-year-old vampire, and in fifteenth-century Renaissance Florence, Vittorio finds his world shattered when his entire family is destroyed in an act of unholy violence and embarks on a desperate quest for revenge, in Vittorio, the Vampire, in an omnibus edition.
6.  The Omnivore's Dilemma by Michael Pollan from a friend.
What should we have for dinner?" To one degree or another this simple question assails any creature faced with a wide choice of things to eat. Anthropologists call it the omnivore's dilemma. Choosing from among the countless potential foods nature offers, humans have had to learn what is safe, and what isn't—which mushrooms should be avoided, for example, and which berries we can enjoy. Today, as America confronts what can only be described as a national eating disorder, the omnivore's dilemma has returned with an atavistic vengeance. The cornucopia of the modern American supermarket and fast-food outlet has thrown us back on a bewildering landscape where we once again have to worry about which of those tasty-looking morsels might kill us. At the same time we're realizing that our food choices also have profound implications for the health of our environment. The Omnivore's Dilemma is bestselling author Michael Pollan's brilliant and eye-opening exploration of these little-known but vitally important dimensions of eating in America.
7.  The Book of Goodbyes by Jillian Weise from Academy of American Poets.
Weise's collection "examines the daily life and consciousness of a speaker with a disability willing to confront all taboos associated with sex, intimacy, identity, gender, and love." – Coldfront Magazine

The Los Angeles Times described Jillian Weise's debut poetry collection as "a fearless dissection of the taboo and the hidden." In this second collection she forwards her bold, sexy poetics by chronicling an affair with a man she names "Big Logos." These poems throw into question sex, the law, identity, sentiment, and power, shifting between lyric and narrative, hyper-realism and magical realism, fact and fiction.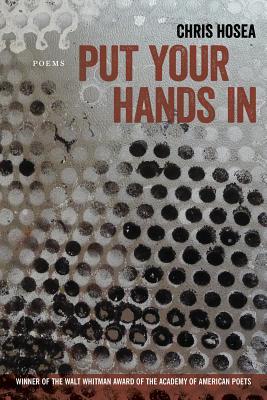 8.  Put Your Hands In by Chris Hosea from Academy of American Poets.
"Exactly a century ago, the Armory Show brought European avant-garde art to New York. We are still experiencing its consequences. Among the works on view was Marcel Duchamp's notorious Nude Descending a Staircase, which a derisive critic wanted to rename 'Explosion in a Shingle Factory.' Both titles come to mind as one reads Chris Hosea's Put Your Hands In, which somehow subsumes derision and erotic energy and comes out on top. Maybe that's because 'poetry is the cruelest month, ' as he says, correcting T. S. Eliot. Transfixed in midparoxysm, the poems also remind us of Samuel Beckett's line (in Watt): 'The pain not yet pleasure, the pleasure not yet pain.' One feels plunged in a wave of happening that is about to crest." — John Ashbery, from his judge's citation for the Walt Whitman Award.
9.  Reflections of Hostile Revelries by Jennifer C. Wolfe from the poet for review.
Jennifer C. Wolfe's new collection Reflections of Hostile Revelries is the voice in our heads that needs to be spoken. In this progressive work, Wolfe targets our richest and most powerful enemies addressing their essential flaws and epic mistakes while reminding the reader these are the exact people running our countries. Reflections of Hostile Revelries is direct and honest oral poetics and will leave you tired, but eager to read on. —Jordan Antonucci, Editor, Monkey Puzzle Press "Jennifer Wolfe's second book, Reflections of Hostile Reveries, takes as its subject the American political landscape. In biting and often hilarious poems that spare no one, Wolfe skewers the absurdity and inanity of our politics and politicians. Everyone gets called out–from Sarah Palin to Barack Obama, from Chris Christie to the Supreme Court. Wolfe showcases her talents in a wide range of forms, from long-lined, discursive poems to haikus.
What did you receive?
August 17, 2014 3 Comments
Rules Thank the person who nominated you. Add the "Very Inspiring Blogger Award" logo to your post. Share 7 things about yourself. Nominate 15 bloggers who inspire you. Include the set of rules. Inform your nominees by posting a comment on his/her blog. Thanks to Hattie from Books Make Me Happy for nominating me.  Normally, […]