January 26, 2015 13 Comments
Mailbox Monday, created by Marcia at To Be Continued, formerly The Printed Page, has a permanent home at its own blog.
To check out what everyone has received over the last week, visit the blog and check out the links.  Leave yours too.
Also, each week, Leslie, Vicki, and I will share the Books that Caught Our Eye from everyone's weekly links.
Here's what I received:
1.  Puckster's Christmas Hockey Tournament by Lorna Schultz Nicholson, Illustrated by Kelly Findley for review from LibraryThing Early Reviewers.
In Puckster's Christmas Hockey Tournament, it is Christmas Eve and Puckster is nervously watching the heavy snowfall gather on the ground and in the trees. It is his first Christmas away from home and though he is excited to be with Team Canada at the World Junior Hockey Tournament, he is afraid that the winter storm will prevent his family and friends from traveling to the remote arena and arrive in time for Christmas morning.

But there is another traveler that Puckster and the players are excited to see this Christmas. Santa! When the heavy snow forces the closure of the roads, only Santa and his team of reindeer can help. Will everyone be together for Christmas? In this magical story of friendship, young hockey fans learn the true meaning of the holidays. Puckster's Christmas Hockey Tournament is destined to be a holiday classic.
2. The World Is On Fire: Scrap, Treasure, and Songs of the Apocalypse by Joni Tevis, a surprise from Milkweed Editions.
Marked by the end-times sermons of her Southern youth, Joni Tevis has spent her life both haunted by and drawn to visions of apocalypse: Nuclear fallout, economic collapse, personal tragedy. This collection follows the pilgrimage she undertook to put her childhood dread to rest. Standing at Buddy Holly's memorial in the middle of a farmer's field recalls Doom Town—the model American suburb built in the Nevada desert to measure the devastation of a nuclear bomb. Wandering the abandoned shop floors of shuttered factories in her hometown conjures landscapes submerged by flooding. And her visceral experience of remote Alaskan wilderness merges into a meditation on the sublime instinctual joy, as well as the unutterable sorrow, that can result from a woman carrying a child in her body.
3. Stella Rose by Tammy Flanders Hetrick, a surprise from Caitlin Hamilton Marketing.
Before her death, Stella Rose asks her best friend, Abby, to take care of her sixteen-year-old daughter, and Abby does the only thing she can: she says yes. After Stella s death, Abby moves to Stella s house in rural Vermont and struggles to connect with Olivia, who immediately begins to engage in disturbing behavior starting with ditching her old group of friends for a crowd of dubious characters. As the fog of grief lifts, Abby reconnects with old friends, enlists the aid of Olivia s school guidance counselor, and partners with Betsy, another single mom, in an effort to keep tabs on the headstrong teenager she s suddenly found herself responsible for but despite her best efforts, she is unable to keep Olivia from self-destruction. As Abby s journey unfolds, she grapples with raising a grieving teenager, realizes she didn't know Stella as well as she thought, falls in love twice and discovers just how far she will go to save the most precious thing in her life."
4. Doll God by Luanne Castle for my first Poetic Book Tours blog tour.
Luanne Castle's new collection, Doll God, is sublime. The manner of these poems—that they embrace the doll and bring to it humanity and divinity—is something to behold. The voice in these poems is tender, visceral, and wonderfully human. Ms. Castle has forged a vision that feels like something you want to dance with, dress up, talk to like a child, but with an adult's sensibility. I love these poems with my whole heart because they make me feel both childlike and grown, simultaneously. Doll mistresses, primordial conches, Barbies, infuse these poems with tremendous humanity, and they delight with purpose, sadness and joy, and an incredible range that will leave you breathless.
—Matthew Lippman, author of American Chew
What did you receive?
January 24, 2015 4 Comments
Welcome to the 290th Virtual Poetry Circle!
Remember, this is just for fun and is not meant to be stressful.
Keep in mind what Molly Peacock's book suggested.
Look at a line, a stanza, sentences, and images; describe what you like or don't like; and offer an opinion. If you missed my review of her book, check it out here.
Today's poem is from Walt Whitman, read by Langston Ward:
A March in the Ranks Hard-Prest, and the Road Unknown
A march in the ranks hard-prest, and the road unknown,
A route through a heavy wood with muffled steps in the darkness,
Our army foil'd with loss severe, and the sullen remnant retreating,
Till after midnight glimmer upon us the lights of a dim-lighted building,
We come to an open space in the woods, and halt by the dim-lighted building,
'Tis a large old church at the crossing roads, now an impromptu hospital
Entering but for a minute I see a sight beyond all the pictures and poems ever made,
Shadows of deepest, deepest black, just lit by moving candles and lamps,
And by one great pitchy torch stationary with wild red flame and clouds of smoke,
By these, crowds, groups of forms vaguely I see on the floor, some in the pews laid down,
At my feet more distinctly a soldier, a mere lad, in danger of bleeding to death, (he is shot in the abdomen,)
I stanch the blood temporarily, (the youngster's face is white as a lily,)
Then before I depart I sweep my eyes o'er the scene fain to absorb it all,
Faces, varieties, postures beyond description, most in obscurity, some of them dead,
Surgeons operating, attendants holding lights, the smell of ether, the odor of blood,
The crowd, O the crowd of the bloody forms, the yard outside also fill'd,
Some on the bare ground, some on planks or stretchers, some in the death-spasm sweating,
An occasional scream or cry, the doctor's shouted orders or calls,
The glisten of the little steel instruments catching the glint of the torches,
These I resume as I chant, I see again the forms, I smell the odor,
Then hear outside the orders given, Fall in, my men, fall in;
But first I bend to the dying lad, his eyes open, a half-smile gives he me,
Then the eyes close, calmly close, and I speed forth to the darkness,
Resuming, marching, ever in darkness marching, on in the ranks,
The unknown road still marching.
What do you think?
January 23, 2015 3 Comments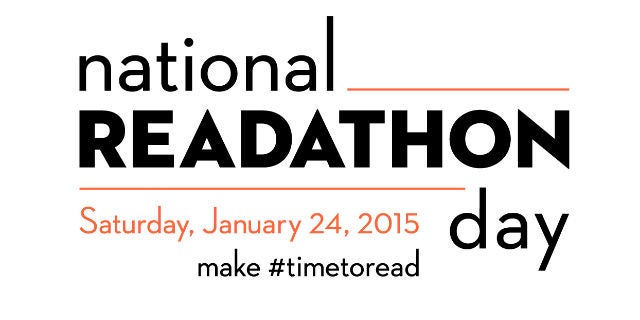 This Saturday, Jan. 24, 2015, is National Readathon Day between the hours of noon and 4 p.m. in your respective time zones.  Sponsored by Penguin Random House, GoodReads, Mashable, and the National Book Foundation.
Pick up a book — something you've wanted to read, something you have already started, something you've read before…it doesn't matter which — sit in a comfy place in your house, a bookstore, a cafe, school, or the library — anywhere really — and read for four straight hours.  Breaks for snacks, bathroom business, or drinks are welcomed and encouraged, but return to your book!
As an aside, book bloggers have been hosting a 24-hour readathon for years — since 2007 when it was begun by blogger, Dewey, who sadly passed away in 2008. The community has since continued the tradition, and information about it the readathon, renamed in Dewey's honor, can be found here. The next is scheduled for April 25, 2015.
In Maryland, it appears that A Likely Story Bookstore, Sykesville, MD, is participating with an event, and in Virginia, these bookstores/libraries are participating: Chinn Park Regional Library, Woodbridge, VA; Rockbridge Regional Library, Lexington, VA; Chesapeake Public Library, Chesapeake, VA; BBGB Books, Richmond, VA.  In Washington, D.C., Kramerbooks & Afterwords, Washington, DC, and Politics & Prose, Washington, DC, are participating — two of my favorite venues. I hope you have a venue near you that's participating or that you are participating at home and with loved ones. It also would be fantastic if you donated money to the cause of literacy.
On a side note, I've often loved reading in bed, but our mattress is sadly in need of replacement as I often wake up with aches in my lower back or my hips no matter what "number" the bed is set on. I've found the Casper bed online, which looks promising and seems to be getting great reviews. When we have the funds, perhaps this will be the one we set our sights on, and if you have any thoughts on this mattress (especially if you own one), let me know. I digress, what's great is this mattress company also is supporting National Readathon Day!
While I'm not sure what we'll be doing as my husband toils another Saturday away at work, I do have plans to read and read with my daughter. But here are the preliminary selections:
What books are on your list?
January 23, 2015 4 Comments
Short Story Friday has been revamped for 2015, and I'll be sharing snippets from my own fiction pieces, mostly short stories.  In addition to the new business, Poetic Book Tours, I'll be writing and submitting more of my own fiction and poetry this year. I hope you'll offer your thoughts on this story that is […]