May 5, 2015 Leave a Comment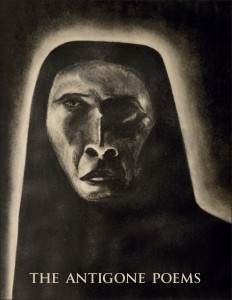 Source: Altaire Productions & Publications & TLC Book Tours
Paperback, 104 pgs.
I am an Amazon Affiliate
The Antigone Poems by Marie Slaight, with charcoal drawings by Terrence Tasker that resemble the one on the cover (who may be is Antigone), is unique in that it is inspired by the Sophocles play but that it is not explicit in its references.  Antigone is the third in the Theban plays written by Sophocles and she was a very stubborn character who fought for her familial duties.  She is not only stubborn but very passionate about her beliefs.  The Antigone we meet in these poems is very passionate and very torn, but there also is an underlying darkness to her actions.  Slaight brings out her inner fears of death, which she believes is imminent even as she continues to defy the authorities and the gods with her actions out of duty.
Slaight employs some fantastic imagery, like "If this perfume doesn't burst/It will twist into venom." (pg XVII) and "Silence and decline/And a veil of grey descending." (pg. LXXIII)  Coupled with the stunning charcoal drawings from Tasker, which remind me of the Greek masks worn when the old plays were acted out, the collection evokes deep sadness, turmoil and concern.  One of my favorite images is a side profile in which just the face is shadowed on a cream background and the hair is left without definition.  There is a fierceness in the woman's brown and chin, but sadness can be found in her down-turned mouth.
From pg. LVII

Carver
Twist
You mark
In flesh.

Sculptor

Smash
This stone
In death.

Your anguish sought this blackened veil.
Your anger wrought this iron hell.
The Antigone Poems by Marie Slaight, with charcoal drawings by Terrence Tasker, is a fascinating collection of passionate and terrifying poems depicting the inner turmoil of Antigone, who fought for what was morally right and what she thought of as her duty to her brother.  She gives up everything with her battle to bury her shamed brother, including her betrothal to the prince of Thebes.  Slaight has a deft poetic hand when it comes to this tortured and head-strong character.  Her poems are cryptic, but infused with strong emotion.  Some surface background on the character of Antigone may be needed to fully grasp these poems, but on the surface, they could be spoken by any such woman or man.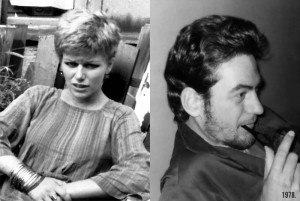 About the Poet:
MARIE SLAIGHT (1954-) has worked in Montreal, New Orleans, and Buenos Aires as a writer, producer, and performer. Now based in Sydney, Australia, her poetry has appeared in American Writing, Pittsburgh Quarterly, Poetry Salzburg, The Abiko Quarterly, New Orleans Review and elsewhere. Slaight is currently the director of Altaire Productions & Publications, a Sydney-based arts production company, which has been involved in such films as the award-winning documentary Bury the Hatchet, Kindred and Whoever Was Using This Bed.
About the Illustrator:
TERRENCE TASKER (1947-1992) was born in Saskatchewan, Canada. Raised in rural western Canada, he went on to become a self-taught artist and filmmaker. He co-founded and built the original Studio Altaire, a 90-seat theater and visual art gallery that also ran after hours jazz concerts in downtown Montreal. He worked as a set builder as well as working in construction, mining, finance, industrial installations, taxi driving and film projectionist. He created the artwork for The Antigone Poems in the 1970s, while living in Montreal and Toronto.
May 4, 2015 12 Comments
Mailbox Monday, created by Marcia at To Be Continued, formerly The Printed Page, has a permanent home at its own blog.
To check out what everyone has received over the last week, visit the blog and check out the links.  Leave yours too.
Also, each week, Leslie, Vicki, and I will share the Books that Caught Our Eye from everyone's weekly links.
Here's what I received:
1. Crossfades by William Todd Rose for TLC Book Tour in May.
Some men fear their own deaths. Others dream of peace and heaven. But Albert knows exactly what he wants: to be the lord of his own private hell, where his eternal reward will be torturing the souls of his victims. And he knows how to get it.

While Chuck's dream of a promotion may be ordinary, his career is anything but. As a Recon and Enforcement Technician, Level II, at a mysterious organization known only as the Institute, Chuck spends his days rescuing souls that get trapped between this life and the next, caught in mini-hells known as crossfades.

Lydia has no dreams—only nightmares. There will be no awakening from the impossible realm of terror and pain where she's trapped . . . unless Chuck tracks her down. But this rescue will not be easy, not for a mere Level II technician. Because, in this place, Albert is god. And he's determined that none shall escape his wrath.
2. Lost and by Jeff Griffin from NetGalley.
Ever since he was a child sitting in the back of his parents' car, Jeff Griffin has been taking explorative journeys into the desert. In 2007, as an art student, he started wandering the back roads of the Mojave Desert with the purpose of looking for a place to reflect in the harshly beautiful surroundings. What he found were widely scattered postmodern ruins—abandoned trailers and campers and improvised structures—whose vanished occupants had left behind, in their trash, an archaeological record of astonishing richness and poignancy.
3.  The House of Hawthorne by Erika Robuck for review from Penguin Random House and so I can moderate at the Gaithersburg Book Festival this month.

Beset by crippling headaches from a young age and endowed with a talent for drawing, Sophia is discouraged by her well-known New England family from pursuing a woman's traditional roles. But from their first meeting, Nathaniel and Sophia begin an intense romantic relationship that despite many setbacks leads to their marriage. Together, they will cross continents, raise children, and experience all the beauty and tragedy of an exceptional partnership. Sophia's vivid journals and her masterful paintings kindle a fire in Nathaniel, inspiring his writing. But their children's needs and the death of loved ones steal Sophia's energy and time for her art, fueling in her a perennial tug-of-war between fulfilling her domestic duties and pursuing her own desires.

Spanning the years from the 1830s to the Civil War, and moving from Massachusetts to England, Portugal, and Italy, The House of Hawthorne explores the tension within a famous marriage of two soulful, strong-willed people, each devoted to the other but also driven by a powerful need to explore the far reaches of their creative impulses.
What did you receive?
May 2, 2015 1 Comment
Welcome to the 304th Virtual Poetry Circle!
Remember, this is just for fun and is not meant to be stressful.
Keep in mind what Molly Peacock's book suggested.
Look at a line, a stanza, sentences, and images; describe what you like or don't like; and offer an opinion. If you missed my review of her book, check it out here.
Today's poem is from Ted Kooser:
Abandoned Farmhouse
He was a big man, says the size of his shoes
on a pile of broken dishes by the house;
a tall man too, says the length of the bed
in an upstairs room; and a good, God-fearing man,
says the Bible with a broken back
on the floor below the window, dusty with sun;
but not a man for farming, say the fields
cluttered with boulders and the leaky barn.
A woman lived with him, says the bedroom wall
papered with lilacs and the kitchen shelves
covered with oilcloth, and they had a child,
says the sandbox made from a tractor tire.
Money was scarce, say the jars of plum preserves
and canned tomatoes sealed in the cellar hole.
And the winters cold, say the rags in the window frames.
It was lonely here, says the narrow country road.
Something went wrong, says the empty house
in the weed-choked yard. Stones in the fields
say he was not a farmer; the still-sealed jars
in the cellar say she left in a nervous haste.
And the child? Its toys are strewn in the yard
like branches after a storm—a rubber cow,
a rusty tractor with a broken plow,
a doll in overalls. Something went wrong, they say.
What do you think?
May 1, 2015 2 Comments
Source: Sterling Children's Books Hardcover, 18 pgs I am an Amazon Affiliate ABC Universe by American Museum of Natural History is not your typical book about the alphabet.  Whether you have daughters, sons, nieces, or nephews who are just starting to learn their letters, this board book presents vivid and interesting pictures for kids to […]